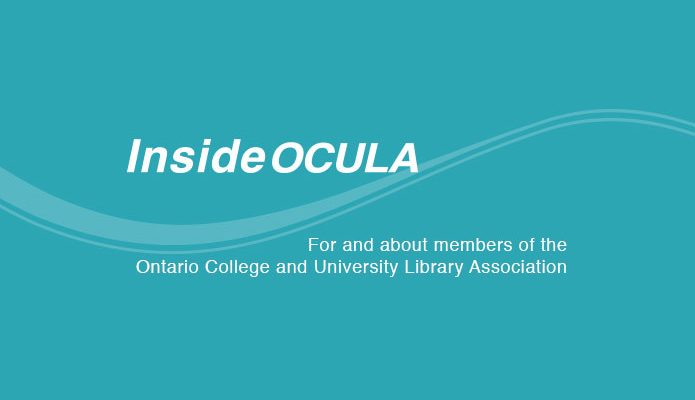 InsideOCULA Newsletter: November 2017
While often hectic, a new academic year also offers time for reflection; time for celebrating achievements realized over the spring and summer months, as well as time for planning ahead for the fall and winter terms to come. This issue of InsideOCULA features articles that both celebrate a job well done as well as anticipate some exciting new ventures that will play out over the upcoming months.
In the OCULA President's message, Sarah Shujah sets the stage for thinking about our future, reflecting on the top 5 challenges and opportunities ahead for OCULA as OLA embarks on a new strategic plan for 2017-2020. (Spoiler alert – academic freedom, copyright and freedom of expression are top of mind in this piece!)
Kevin Manuel and Ewan Matthews' feature article, Getting the word OUT! Digitizing the LGBTQ+ Past of Ryerson and Beyond, shares the fascinating history behind a large collection of LGBTQ+ resources held by the Ryerson University Library and Archives, and celebrates the successful digitization project designed to both preserve and share these valuable holdings.
Looking to make sense of the recent Access Copyright decision v. York University? Mark Swartz has written a piece that offers some useful context as well as a variety of resources for those looking to learn what may come next in the ongoing 'fair use' challenge for academic libraries.
Speaking of context, who doesn't love a good backgrounder? Jack Young wants you to know that OCULA information briefs are both a tool you can learn from, as well as something you can help create. Find out how in his article OCULA Information Briefs: A Great Way to Get Started.
The Research Spotlight this month shines on a group of archivists from Western University who reflect on their experience sharing research findings through a 'pop up' session. Learn more about this interesting approach from Lise Doucette, who spoke with her colleagues about this unique opportunity.
Two more articles this month feature:
Finally, while making your own fall plans you won't want to forget to mark the OCULA Virtual Fall Conference into your calendar. You can find out more about the timing and the program from Melanie Parlette-Stewart.
Jennifer Robinson is Associate Chief Librarian at Western Libraries and an InsideOCULA Editor. She can be reached at jrobins[at]uwo.ca.