Collections to connections: 2014 Lightning Strikes winner
In the lightning round session at the 2014 Super Conference, six students from across Ontario presented 10-minute lightning talks on issues related to academic libraries. The audience cast ballots for their favourite presentation. This year, Yayo Umetsubo won the competition and received the 2014 OCULA Student Award, an honorarium, and a complimentary OLA membership for one year.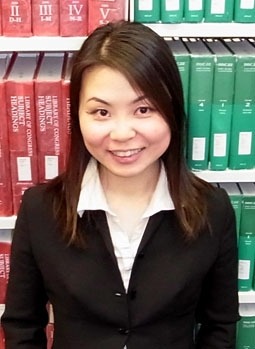 Submitting a proposal to the OCULA 2014 Lightning Strikes had been on my "must-do in 2014" list since I volunteered at the OLA Super Conference in 2013. Since I aspire to become an academic librarian, I am grateful to have had the opportunity to be a presenter this year.
My presentation, Turning Collections into Connections: International Students, Librarians, and Canadian Academic Expectations, focused on the results of three projects I launched to support the academic success of international students at the University of Windsor:
A weekly English conversation group hosted in the library
A workshop called Library Resources and Services for Graduate Students, created in collaboration with the Graduate Student Society
A qualitative and quantitative study titled Research about Students' Information Retrieval, Critical Thinking
and Analytical Skills and Plagiarism
At universities across Ontario, campus services familiarize international students with Canadian academic expectations including critical thinking skills, strong citation practices, and an understanding of plagiarism. At the University of Windsor, where international students accounted for more than 46 per cent of the graduate student population in the winter of 2013, such services are offered by the Academic Integrity Office, International Centre, Writing Centre, student groups, and University Secretariat. I believe that libraries have a unique opportunity to connect these services and propose collaborative solutions.
In my presentation, I emphasized that librarians, who already have a good rapport with academic faculties and other support services at their institutions, also strive to be on the forefront of international students' research needs and are aware of their research challenges. The three projects I described provide examples of how librarians, in their role as research facilitators, are well-positioned to spearhead collaborative projects aimed to support international students.
I completed these projects during my co-op term at the Leddy Library at the University of Windsor, where I had the great fortune to be supported by librarians, staff, students, and professors. I thank them for their advice, encouragement, and collaboration. In particular, I would like to thank Karen Pillon, Head of Access Services, for her support. I would also like to thank OCULA for the opportunity to present my work.
Missed the presentations at OLA Super Conference? View those of the other five 2014 Lightening Strikes participants.
Lisa Glandon, University of Ottawa
Roving Reference: A Proactive Approach to User Services
Chris Landry, University of Western Ontario
Zines in the Academy: Alternative narratives
Kyra Folk-Farber, University of Toronto
"Am I Allowed to Print This?" Embedded Copyright Information in Academic Library Catalogues
Jamila Ghaddar, University of Toronto
Decolonizing the Library? Indigenous Librarianship in Academic Settings
Ashley Yurek, University of Western Ontario
The Rise of MOOCs with the Help of Librarians
Yayo Umetsubo is the 2014 OCULA Lightning Strikes winner and a recent MLIS graduate from Western University.