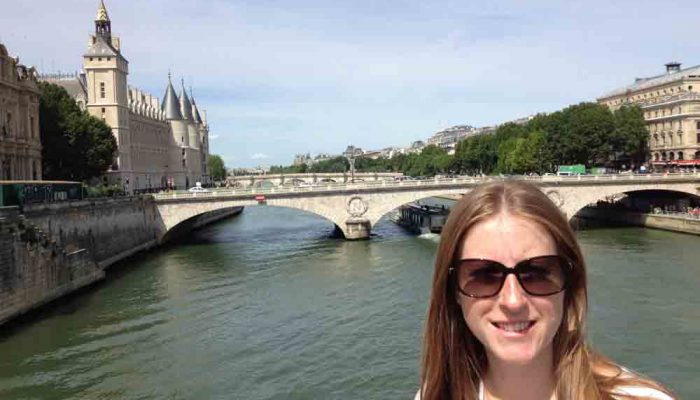 Shanna Pearson: Advocacy, Professional Development & Historical Fiction
A column from the OCULA president is a traditional feature in InsideOCULA, but we've changed things up this time: please enjoy a Q&A with Shanna Pearson conducted by InsideOCULA Deputy Editor Graeme Campbell.
When did you first join OCULA? How have you benefited from your membership over the years?
I first joined OCULA seven years ago, when I became a professional librarian at Seneca College. I'd say the biggest benefit of being an OCULA member has been attending OCULA's annual conferences. Year after year, OCULA's events provide the perfect mix of fun, networking and professional development. There are always opportunities for members to be creative and to share their knowledge and experiences with their peers through engaging activities.
My favourite event was the OCULA 2013 Spring Conference, because participants were challenged to use new software to create a digital poster. I've also found the articles in InsideOCULA extremely valuable as they allow me to keep up-to-date and to be inspired by all the amazing work being done in academic libraries. Overall, being part of OCULA has made me feel like I'm part of a community and has allowed me to build my network and work with colleagues from other institutions with similar job scopes and interests.
How have your first few months on the job as OCULA President been different from what you expected?
As president, I have felt a great sense of responsibility to provide the best professional development opportunities to OCULA members, to keep current on a broad scope of library issues of importance to the academic community, and to mentor students in library school. This winter, OCULA had an amazing iSchool practicum student named Katey Stickle working with us and the OLA office. I felt a huge responsibility to not only give Katey projects that would help enhance her resume, but to also mentor her as best I could so that she was prepared for the job search when she graduated. I just hope I was able to help!
Tell us about a past OCULA or OLA moment that you found particularly enriching or that affected you positively in some way.
The opportunity to represent OLA and advocate for libraries at Queen's Park in November was a particularly unique and enriching experience. I must admit that the thought of engaging in dialogue with MPPs and provincial ministries was frightening at first, but all you have to do is mention the word "libraries" and most people's faces light up as they share childhood memories about their local public or school libraries.
What I found particularly valuable about that day was being able to listen to other OLA representatives talk to MPPs about the significant role that school and public libraries play in their communities (boy are they compelling!). OCULA also had the opportunity to reflect on the value that academic libraries have on their own communities and created an infographic which anyone can use to advocate on behalf of their library to administrators, executives or even MPPs.
What OCULA or OLA events are you most looking forward to in the coming year, and why?
Well, aside from the two amazing events the OCULA just hosted – the Spring Conference in April and May's Spring Dinner — I'd have to say that I'm most excited for the 2016 OLA Super Conference. I love this year's theme "Library Lab: The Idea Incubator" and I know it's going to generate some unbelievably creative and engaging sessions.
What are you reading right now? Why did you choose it?
To be honest, I always feel guilty when I'm asked this question because when I'm not doing research at work, I'm often relaxing at home in front of the TV with a nice glass of wine. The only time I get to enjoy a good book or two is when I'm on vacation.
So, to answer your question, the last book I read was The Painted Girls by Cathy Marie Buchanan. I chose it because the story takes place in Paris in the late 1800s. I love to travel (especially to Paris) and my favorite literary genre is historical fiction. The other reason I chose it was because the story was inspired by the girl who modelled for Edgar Degas' Little Dancer Aged Fourteen. I studied art history during my undergrad, so I like to reconnect with art any way I can, even if it's through fiction. A scene in the book Girl with a Pearl Earring actually inspired me to study art in the first place.
Graeme Campbell is the Open Government Librarian at Queen's University Library, and Deputy Editor of InsideOCULA.