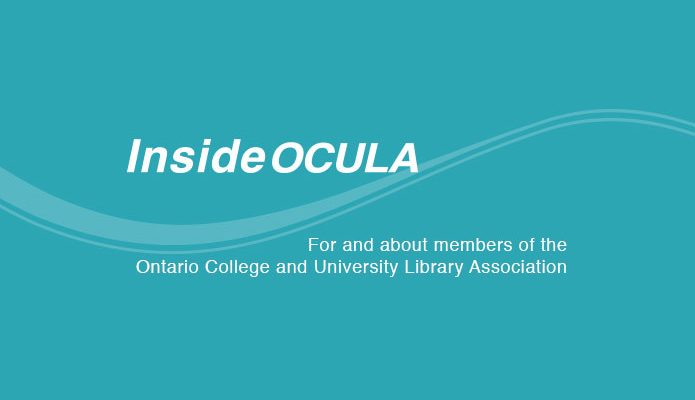 InsideOCULA Newsletter: July 2015
As a busy conference season begins to slow down, we welcome the final summer issue of InsideOCULA. Our July 2015 issue is all about collaborating with colleagues and users, and using technology to improve and augment library services.
This month's feature comes from Mark Weiler, a liaison librarian at Brock University. In his article, Mark gives an account of a collaboration between the library, faculty, staff and students that took developing a book display to a whole new level. Find out what had students lining up to browse through the collection in Engaging Students with Virtual Reality.
We continue our look at student interaction with collections in this month's Research Spotlight. Jenaya Webb, Public Services Librarian at the OISE Library and Co-editor-in-chief of InsideOCULA, outlines her current research project looking at the ways students navigate library spaces. Part of her method of data collection involves sending students out into the library to take digital photographs. Read all about it in Participant-driven photo-elicitation for studying library spaces.
The Ontario Council of University Libraries (OCUL) already has a history of collaborating on projects to more efficiently and effectively serve their collective user communities. OCUL's mandate and scope means that its initiatives can truly be said to be Around the Province. The Collaborative Futures project is no exception, aiming to support and facilitate library services and collection management at multiple institutions. Cort Egan, Assistant Director of Organizational Services at the University of Guelph, and Jacqueline Whyte Appleby, Acting Assistant Director of OCUL Scholars Portal, bring you an update on this important initiative in OCUL Collaborative Futures Project Gaining Momentum.
This may be our last summer 2015 issue of InsideOCULA, but we're very excited about our fall issues, the first of which arrives in September. We're still on the lookout for features or interviews for our upcoming issues, so please consider submitting an article. Or, if you're strapped for time but would still like to contribute, you could write one of our shorter columns. Research Spotlights are a great way to get the word out about a project you're working on, especially if you're looking to collaborate or for feedback. Around the Province allows OCULA members to highlight interesting events or initiatives happening at their local institutions. If you have ideas for any of these segments, let us know. We'd love to hear from you!
Graeme Campbell is the Open Government Librarian at Queen's University Library, and Deputy Editor of InsideOCULA.