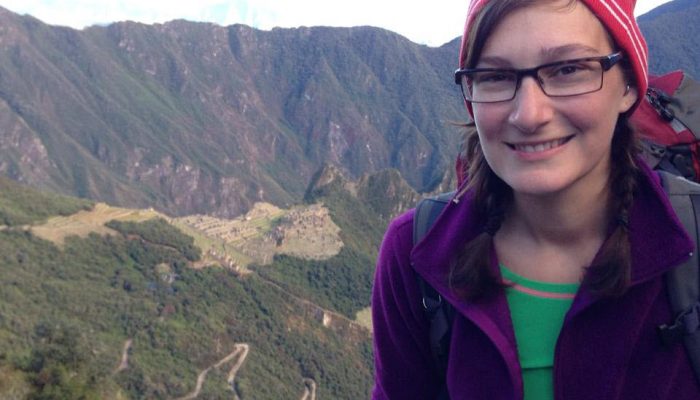 Lifting others up through leadership: OCULA President's Message
I'm not going to lie: when I applied for library school in early 2011 I had no idea what I was getting into. I served coffee full-time for three years after I finished my undergraduate degree and held a short-lived gig in a law firm where I learned that I did not, in fact, want to go to law school. Frustrated by underemployment, I did what any millennial is stereotyped for doing: I called my parents. At this point, my mum was accustomed to offering me pep talks, but this time was different. She'd had a conversation with a library worker that day and, when I called, she thought I might like to consider work in a library.
Fast forward to August 2012 and I had accomplished what I had set out to do: I had completed most of my MLIS coursework and held a co-op position at Brock University, where I met Laurie Morrison. Laurie became my most valued mentor, first as my co-op supervisor and later as my boss. In addition to showing me the ropes of academic librarianship, she introduced me to professional service and encouraged me to get involved with OLA.
As a member of the OLA Mentoring Committee, I learned very quickly the impact that OLA and its divisions have on our profession. From Laurie I learned that I can't necessarily count on waiting to be noticed. If I had goals, I was responsible for meeting them. I craved more involvement and when the opportunity to run for vice-president presented itself after one year on OCULA Council, I ignored self-doubt and put my name in the hat. I wanted to take on more responsibility in my daily duties at work and OCULA presented a fantastic opportunity to refine my leadership skills.
I have learned so much more than how to lead. I have learned about the significant impact OLA and its divisions have on entire communities through libraries. I have participated in high-level conversations about the role of library associations in Canada and I have been involved in decisions that have impacted the library community as a whole.
I am most passionate about lifting others up, namely new or recent graduates from library programs. Having recently experienced the daunting task of finding permanent employment, I am all-too-familiar with the struggle new librarians face today. As libraries face budget stagnation or cuts, retirements and the subsequent increase in opportunities for higher-level positions have not necessarily resulted in a shift that has generated permanent entry-level openings. This is why I am most proud of the OCULA New Librarian Residency Award. Look for contributions to InsideOCULA from our 2015-16 New Librarian Resident, Chris Landry, Scholarly Communications Librarian/Digital Projects Curator (OCADU).
I am also proud of OCULA's engagement with its membership through its three annual events. This year's OCULA Spring Conference will be on April 29 at Inn on the Twenty in picturesque Jordan Village. The theme, Creating Space, promises to ignite interdisciplinary conversations about innovation in our academic libraries. Registration is open now.
Open Access, Open Minds is the theme of our OCULA Spring Dinner this May, so stay tuned for more information about this event, as well as our virtual Fall Conference, co-hosted with OLITA, this autumn. Our planners are already hard at work to ensure our events are fun and engaging with themes that are timely and relevant to academic libraries. Our OCULA event planners welcome volunteers from the OCULA membership. Connect with the OCULA Volunteer Coordinator, Andrew Colgoni, if you're interested in volunteering.
I look forward to the year ahead and to serving as your 2016 OCULA President, but I have to thank my mother and my mentor for encouraging me to pursue this incredible path in the first place. Never underestimate your influence on those around you.
Denise Smith is an Education Liaison Librarian at McMaster University's Health Sciences Library, where she is the liaison for the Bachelor of Health Sciences program. She is also OCULA President and has a seat on the IFLA Information Literacy Standing Committee. Denise can be contacted at dsmith [at] mcmaster.ca and @DeniseSmith85