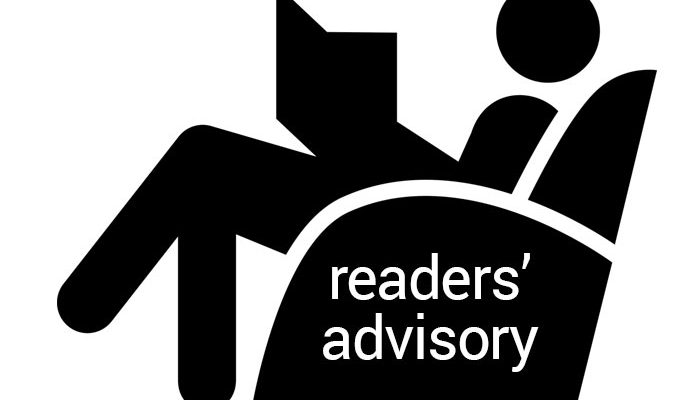 Reluctant Readers' Advisors: Help Your Staff Help Readers
While most staff, even those without professional training, are comfortable with performing reference tasks as part of their job, many become quite hesitant when they are encouraged to provide readers' advisory to readers.  It is common to hear phrases like these:
"I don't read that much"
"I don't read in that genre"
"How will I know what to suggest?"
Paradoxically, libraries need readers (lots of readers) but they do not always do the best job to support them beyond simply providing books on shelves. Learning about readers' advisory is not required coursework for most graduate programs and most students are only vaguely familiar with the concept when they land their first job as a librarian. The focus in schools, and libraries themselves, is to develop and improve reference training skills so it is not surprising that staff feel much more comfortable helping customers find information than finding their next great read.

Libraries need to take ownership of readers' advisory training and ensure that they are filling in the gaps for staff to feel more comfortable. To facilitate comfort and knowledge, libraries need to offer training opportunities for appropriate staff to attend and learn readers' advisory competencies.
Training Strategies
Larger library systems may develop a working group or task team dedicated to readers' advisory tasked to offer specialized training or develop training tools.  These individuals should be engaged readers who have good readers' advisory skills in practice. In smaller library systems, this may fall to one individual who may offer training or encourage others through the work they do on the job. Libraries must invest time and training budget dollars into the improvement of readers' advisory skills if they want their staff to assist readers with a decent degree of competency.
Staff learn skills in many different ways so it is important to offer them training in different formats to ensure it is best suited to the individual.  The OLA's Readers' Advisory Committee gives you access to text-based learning through the core competencies. All libraries have access to these documents and can use them as a plan for staff training.
Libraries should offer in-person training either one-on-one or in small groups to ensure that staff are aware of the organization's expectations when it comes to readers' advisory. Many library systems have staff training days and focussing some time on readers' advisory is critical to ensure that it is being offered as a library service. If travel is difficult in their area, libraries can take advantage of the virtual training sessions offered through OLA's Education Institute as readers' advisory content is always included.
New Approaches
In addition to traditional training, libraries should look at unique ways to promote readers' advisory and train their employees to offer the service. Electronic newsletters, dedicated webpages, blogs or other material can distribute relevant information to staff without the time commitment of in-person training.  Managers and supervisors can ensure that readers' advisory activities are included on yearly objectives and in staff meetings to encourage more participation and learning.
Beyond book talking, staff should try the readers' advisory conversation at staff meetings, talk about readalikes and talk about connecting books to others in the collection. Senior staff need to model a commitment to reading and encourage it in staff on a regular basis. Many libraries engage in reading challenges, vote for Evergreen books or become members of LoanStars. Library staff who read and are familiar with great books are better at their jobs and need to be celebrated for their commitment and the depth of their service.
Connecting with Users
As yearly count week statistics consistently show, less reference questions are being asked of staff and the need for intense reference training is diminishing. More important connections with library users are now established through conversations about books and reading. Staff need to feel confident talking with customers about what they are reading and how the library has so much more to offer them than just information for their reference questions.
Whether in person or through a virtual connection, libraries must invest in the formal training of their staff to perform readers' advisory. There is a growing wealth of resources available to support library staff in gaining the required skills and enthusiasm for helping readers in their community. Readers benefit the most when libraries choose to encourage their staff to strengthen their readers' advisory skills and libraries become more integral to growth and development of their communities through reading.
Diana Krawczyk is the Manager of the Readers' Den Department, Mississauga Public Library. She is a member and past chair of the OLA Readers' Advisory Committee.