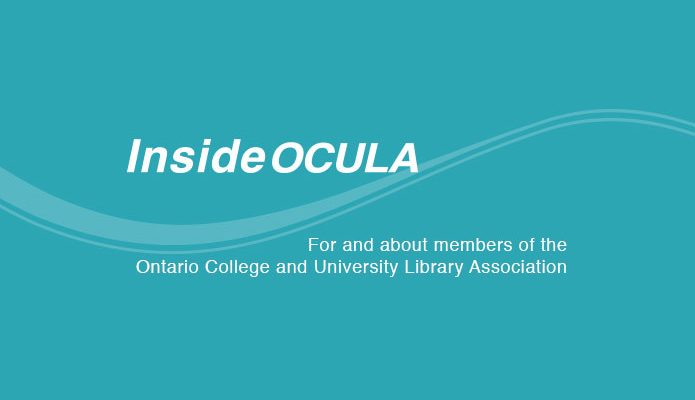 InsideOCULA Newsletter: July 2016
Welcome to the July 2016 edition of InsideOCULA, the newsletter for Ontario's academic library community. Graeme, Michel and I were happy to welcome guest editors Paula Cardozo and Sophia Apostol to the team for this special issue focusing on job-seeking in academic libraries. Paula is a librarian at the University of Lethbridge and Sophia – a former librarian – is a personal and professional development coach. I've had the privilege of getting to know each of them through their volunteer work with OCULA, an organization which has benefited greatly from Paula and Sophia's talents, time and energy. They clearly share a passion for life, librarianship and supporting colleagues with personal and professional development. So I was thrilled when they proposed ideas for stories focusing on how to prepare for academic library job interviews. Thanks to Paula and Sophia's vision and enthusiasm, the story seeds they planted have blossomed into an entire issue: a great resource for anyone in the academic library job market.
First up: two columns focusing on how OCULA supports career development, particularly for those new to library work. OCULA president Denise Smith discusses Closing the sale in a tough job market, while Chris Landry highlights the advantages of OCULA's New Librarian Residency program in Are you experienced? Job hunting as a recent LIS graduate.
So, you build your skills, network, find a great opportunity and land an interview: now what? Learn from Sophia Apostol how to bring your best self — superhero style — to an interview in Slay the interview with your superpowers. We also offer some insider insights from search committee veteran Robin Sakowski in From the hiring line: top tips for interview success.
What can you expect to happen on the day of your interview? Find out what it's like to experience the interview process at a college and a university library in Dealing with the big day on campus, from Paula Cardozo and Fiona Inglis. Michael R. Clark and Melanie Ross explore how their interviews for library technician positions unfolded in A tale of two interviews.
And finally, while it's exciting and gratifying just to be the winning candidate, learn why it's important to get the very best deal you can – and how you can make that happen in Sophia's Ten hot tips for negotiating a job offer.
Wishing you all the best for a wonderful summer full of rewarding opportunities – career-related and otherwise.
Elizabeth Yates is Editor-in-Chief of InsideOCULA and Acting Head, Liaison Services/Scholarly Communication Librarian at the James A. Gibson Library, Brock University. She can be reached at eyates[at]brocku.ca – or Tweet her @LibraryWriteHer
***
What would you like to read about in InsideOCULA? We welcome story ideas and submissions – including videos, cartoons and more – at insideocula@gmail.com