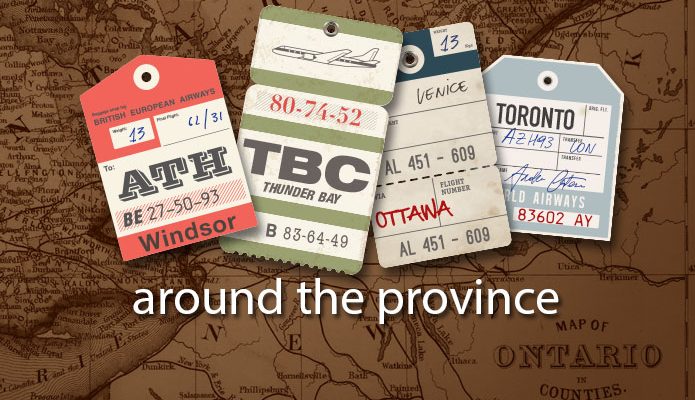 Catching some Zen at Cambrian College Library
By Marnie Seal
Have you ever wanted to catch some "zen" throughout your day, but just found the environment around you a little too stressful? At the Cambrian College Library and Learning Commons, we decided to provide our students with a relaxing space through the creation of our Zen Den. In partnership with our First Generation Advisory Program (FGEN), we took an old storage room in the library and turned it into a comfortable lounge room for our students.

The room now has bean bag chairs, special lamps to help with Seasonal Affective Disorder, desks and tables for working alone or in groups, games, puzzles, whiteboards, and leisure reading materials. We painted the room soothing colors, hung an outdoors-themed mural, and added regular lamps in the room to create a warmer ambiance. The ceiling light covers were also replaced with plastic sheets printed with a sky and cloud pattern to minimize the harsh fluorescent light and continue the outdoorsy feel.
The Zen Den was officially opened last January on Bell Let's Talk Day to encourage positive mental health for our students. Many students commented that they loved the new space because they felt like they were studying or taking a break in their own living room, and greatly appreciated having somewhere to kick back during long hours on campus.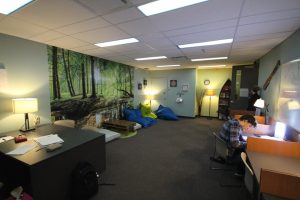 In the past year, the Zen Den has been extremely popular with our students for relaxing and studying (and napping). Local news coverage about the Zen Den was also very prominent, and the story was included in CBC Morning North's favorites for their Best of 2017 roundup. For January 2018, we decided to throw the Zen Den a birthday party as part of the college's Wellness Week programming. One hundred and fifty students and twenty staff members attended the event and celebrated with balloons, cupcakes, and an airbrush tattoo artist. Students also received loot bags containing Panic, Anxiety, and Stress Support Kits (PASS Kits). The Zen Den was gifted a student-created piece of artwork and some weighted blankets for even cozier naps. The Zen Den continues to be constantly occupied and is now a popular stop for every campus tour group.
Marnie Seal (marnie.seal [at] cambriancollege.ca) is the Librarian at Cambrian College of Applied Arts and Technology in Sudbury, Ontario.