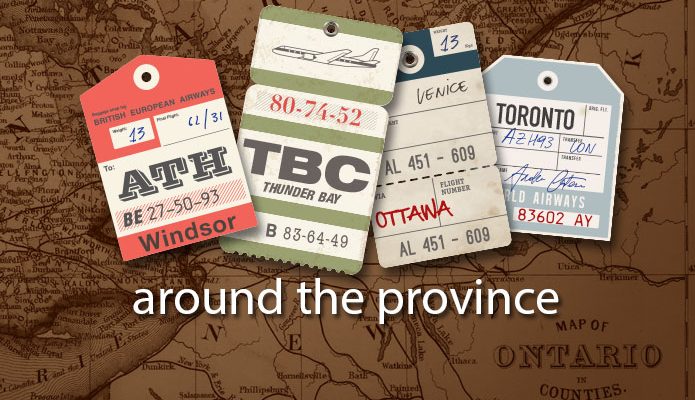 Ontario colleges celebrate 10 years of askON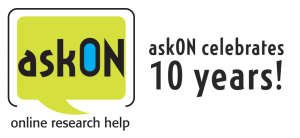 OLA 2018 marked the 10th anniversary of the askON Virtual Reference service, which launched at the OLA SuperConference in 2008 as one of the first collaborative chat-based virtual reference services for Ontario libraries. Over the past ten years the service has evolved from a cross-sector partnership between college, university, and public libraries, funded by the Ministry of Culture and led by Knowledge Ontario, into a dedicated college library virtual reference service managed by the Ontario Colleges Library Service (OCLS) and led by the askON Steering Committee. Eleven partner libraries contribute funds and staff time to serve college library visitors across the province, gaining in return a full schedule of collaborative virtual reference service for their library visitors.  This collaborative staffing model means that askON libraries gain a lot for a little: 62 hours of service weekly in return for a staffing contribution of 2-12 hours based on college size.
Today the service reaches more college library visitors than ever before, thanks to enhancements that have made askON a more visible, more accessible, and more approachable service. The first of these enhancements was a transition to the LibraryH3lp platform in September 2015, which contributed to a 65% increase in traffic during the fall term by removing the pre-chat questionnaire feature used previously, thereby providing a barrier-free entry for students. At the same time, the service launched askON Text, giving students a convenient way to reach the service for quick questions while they're on the go.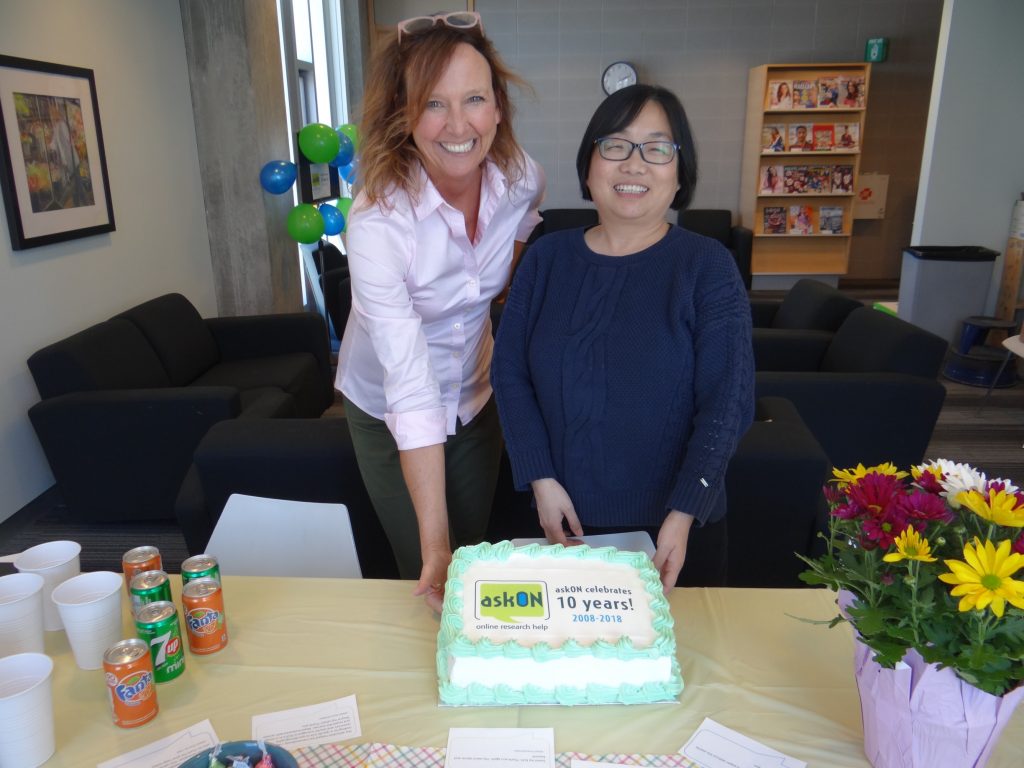 The following spring the service began a pilot to test proactive chat, a feature that allows the service to reach out to students proactively while they are researching. Students responded positively to the pilot, and the service saw increases to the number of questions asked by students, finding as well that students were using the proactive chat tool specifically as a way to ask reference questions rather than other non-research based questions. Following the end of the year-long pilot, proactive chat was added to the askON suite of services at no added cost to partner libraries.
Since the first of these enhancements in September 2015, the service has been breaking its own traffic records semester after semester. In 2017 the service received 10,759 questions, triple the number of questions received in 2014. The number of reference questions has kept pace as traffic has increased: according to the 2017 evaluation of the service, 65% chat sessions included a reference question. In addition, the evaluation showed that 84% of chat sessions with a research question involved an information literacy component.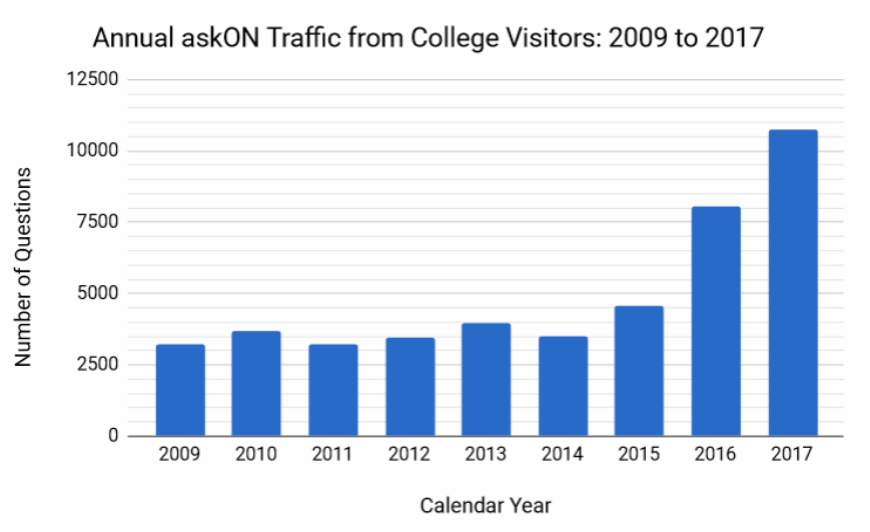 There are currently over 150 staff members at 11 participating libraries who staff askON, answering reference questions from visitors at colleges across the province. For staff, askON offers an opportunity for professional development as well as the chance to work alongside library staff across the province. "When it is busy, virtual reference challenges your research skills and abilities and helps you become better at finding good quality information in a short period of time," says a library staff member at Confederation College. The staff experience has changed since 2015 and staff have adapted to higher traffic levels while maintaining a high standard of customer service and remaining committed to the goal of providing visitors with better information than they can find on their own. Visitors continue to report high satisfaction, with a 98% satisfaction rate in 2017, and transcript analysis by a third-party coder has shown that askON staff demonstrate strong reference skills across all behaviours outlined in the RUSA guidelines for Behavioural Performance of Reference and Information Services Providers.
Visitors use the service for many reasons, but convenience tops the list. As a library staff member from Fanshawe College explains, "we are bringing research help to the students right where they need it, which is everything to them." For many visitors, reaching out online makes sense to them because they are searching for online resources (35% in 2017) or researching off campus (50%). Others simply prefer online services (40%), with some visitors sharing that the online service is a more comfortable way to ask for help due to anxiety, language barriers, disabilities, or other issues.
By providing an alternate means of access, askON supplements the local suite of reference services at participating college libraries and allows their visitors to reach out for library and research help in the way that works for them. "The increase in online learning at our colleges has made virtual reference crucial to the student's academic success," says Marnie Kursiss-Morrow, a library staff member at St. Clair College. "At our college, where our two campuses see rural students and commuters, askON has benefited students who cannot stop into the physical library for help. With our small staff, virtual reference would have been impossible, both staffing and financially. Our college communities are seeing enhanced library services, efficient library operations through our shared partnership."
The service owes its success to the skilled team of college askON staff who provide reference support for visitors across the province, the strategic direction of the askON Steering Committee, and the dedication of participating libraries who have made askON the thriving service that it is today. OCLS looks forward to the college libraries celebrating another 10 years of success with askON!
askON by the numbers
10 years of service
11 participating colleges
62 hours of service per week
150 college staff
10,759 questions in 2017
98% visitor satisfaction in 2017
Siobán Linnen is the Virtual Reference and Accessibility Associate at OCLS. She can be reached at slinnen [at] ocls.ca