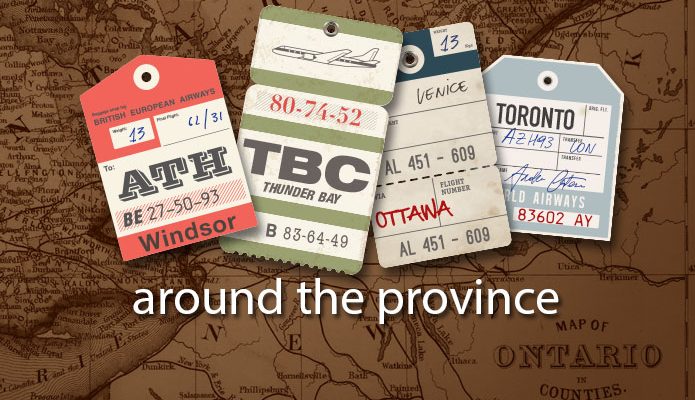 Trent Library donates 250,000 monographs to Open Library
This fall, Trent University's Thomas J. Bata Library will wrap up a significant transformation project that will see the building renewed and sport new technology and teaching spaces. In order to make room for these new additions, such as a data visualization lab and critical making studio, the Library needed to reduce its collection by half. All renovations present challenges, but this requirement created an especially significant hurdle: we knew from past experience that bound serials would be bound for recycling, but what do you do with another 250,000 deaccessioned monographs? Thankfully, as our librarians consulted with colleagues at other universities, we received a novel suggestion: why not approach the Internet Archive's Open Libraries project?
This initiative uses controlled digital lending to make modern books available while respecting applicable copyright laws: once they own a physical copy of a book, Open Libraries can make a digital copy available to one person at a time. Conversations between Trent and representatives from the Internet Archive began in the fall of 2017, and the details and an memorandum of understanding were finalized in the late spring of 2018; many thanks to Alan Darnell and Kate Davis of Scholars Portal for facilitating the introductions that led to this partnership. Trent's decision to donate 250,000 monographs will greatly expand the research titles currently available through Open Libraries while ensuring that the Trent community can still access the material.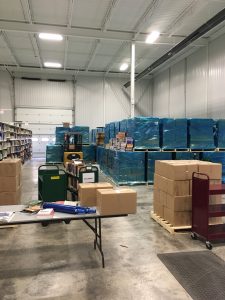 While these discussions were ongoing, librarians and staff worked on the deselection process, which was particularly challenging given its scale. In order to reach the targeted reduction in the collection, librarians used criteria based on circulation, impact on current faculty research and curriculum, and availability at other institutions across the province. The entire collection was moved to a warehouse on the opposite side of Peterborough to facilitate renovations; books were then requested through holds and transported via van to a temporary service point at the campus student centre.
Much of our work on this project involved determining the degree of overlap between the Trent and Open Libraries collections. Once we were confident that overlap would be limited to 10 to 20 percent, we tackled logistics. Moving 250,000 books from Peterborough to California required careful staff to pack deaccessioned material into boxes and onto pallets to make sure they arrived safely and intact. Library staff were also trained in forklift operation in order to load eight shipping containers. In the end, staff packed over 6000 boxes representing over 300,000 pounds of material.
Trent's renovated library is poised to reopen later this fall. Libraries interested in donating materials to Open Libraries can contact Chris Freeland, Director of Open Libraries, at chrisfreeland [at] archive.org.
Dwayne Collins is Digital Scholarship and Innovation Librarian at Trent University. He can be reached at dwaynecollins [at] trentu.ca.