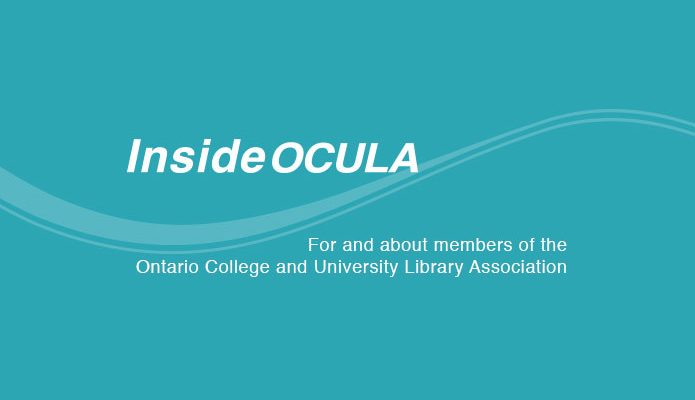 OCULA President's Message
Library Day at Queen's Park
There's an exciting event coming up on Wednesday November 26th! The Ontario Library Association has partnered with Impact Public Affairs (impactcanada.com) to facilitate the Library Day at Queen's Park. Similar in concept to the Canadian Library Association's Day on the Hill in Ottawa, representatives from OLA, OCULA, and the other divisions will meet with the Members of Provincial Parliament to discuss issues important to libraries.
Advocacy and raising the profile of libraries within the government is an important aspect of OCULA's mandate, and I'm looking forward to this opportunity to meet MPPs face-to-face and talk about the importance of libraries and the activities libraries engage in. Impact Public Affairs will work with OLA and an advisory committee to create the key messages we will discuss with the MPPs. There will also be a leave-behind for the MPPs and political staffers as well as follow-up with those we meet.
Further information about this event will be circulated by OLA. For further questions, please contact Shelagh Paterson, Executive Director, OLA.
New librarian resident
In my last column, I wrote about the OCULA New Librarian Resident Award. I'm pleased to share with all of you that Humber College Libraries was the successful applicant. OCULA will award $20,000 to help fund this position for one year. The Librarian Residency Award committee was impressed by the breadth of Humber College's proposal, which will give a new librarian graduate experience with liaison activities, as well as a specific focus on digital learning and digital archives. Committee members also felt that Humber College had a particularly strong mentoring proposal, identifying a library staff member who is fairly new in her career as a mentor for this position.
Humber College has since hired Caleb Domsy for the Library's Digital Learning Librarian position. Caleb will also be an ex-officio member of OCULA Council and will write about his experiences in the library for InsideOCULA. For more information see the Humber-OLA press release.
Fall Conference: Information by design!
Presenting information to patrons visually is one of the many things we do in libraries, whether it be for marketing a library service or event, teaching a class, or a giving a presentation at a faculty meeting–but we aren't all graphic designers. Come to the conference on October 20 at Seneca College to learn more about communicating and designing information to enhance the learner's experience. Register online at the OLA website.
Sophia Apostol is the 2014 OCULA President. She works as the Director of Sales in Canada for YBP Library Services, a book and ebook vendor to academic libraries. Sophia has previously worked for Seneca College, Coutts Ingram, Ontario Colleges Library Service, and the University of Guelph.