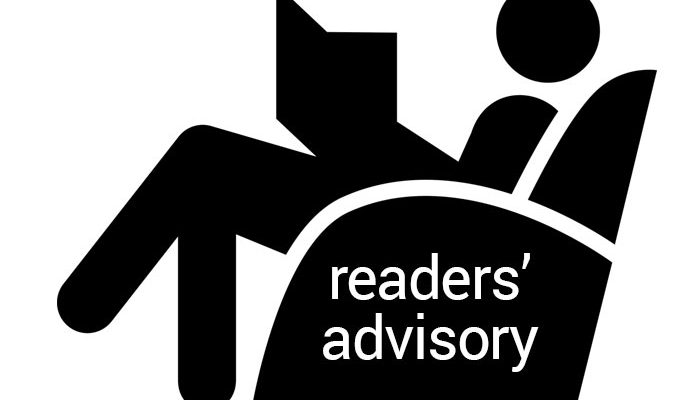 Readers' Advisory – There's an App for That!
Readers' advisory is provided in an ever-widening range of places and spaces. From the in-person reference interview to virtual chat, from websites to electronic resources, there are countless sources of information for readers looking for their next good book. And since there's an app for pretty much everything nowadays, there are a number of apps that can help connect readers with book selections. All these are free and available for iOS and Android devices.
Goodreads
Goodreads is social networking for book lovers! It is one of the most popular sites for readers, and the Goodreads app allows users to access the same functions and features in the convenience of an app. Readers can add and track their own books and reading selections, and the app also includes a barcode scanner to allow users to easily add books to their lists.
My personal favourite feature of Goodreads, both the app and the site, is how it provides personalized recommendations based on reading selections. On the app, users can get recommendations based on various criteria: recommendations can be based on a specific title, on the content of a particular book shelf, or on a particular genre.
Overdrive
We all know that Overdrive is a must-have for downloading ebooks, audiobooks, and other digital content from your local library. But along with providing access to your library's digital collection, Overdrive offers some great features for readers. In "My Account," Overdrive users can get a list of recommendations, based on the titles they have checked out. Users can also keep track of what they have read using the "rating" feature, and can keep a wish list of books for future reading.
YALSA Teen Book Finder
Developed by ALA's Young Adult Library Services Association (YALSA), the Teen Book Finder app provides reading suggestions to users based on YALSA's awards and lists. YA lit lovers can search the app by title, author, genre, year, award, or book list. Each entry gives a brief summary of the book and includes information about awards and lists. As well, users can "favourite" books to create an individualize book list.
OCLS Shake It
Orange County Library System has developed this fun app that allows readers to shake their way to their next favourite read. Users can refine their search by locking down facets like audience (adults, teen or children), genre, and preferred format (movies, books, or audiobooks). Once a title is displayed, the user can click on it to be taken to the OCLS catalogue – of course, this is only useful if you happen to live in Florida. But even without the catalogue functionality, this app is a fun way to discover a new book, movie or audiobook.
With the growing number of websites and online resources dedicated to providing readers with book recommendations, it was only a matter of time before apps came onto the readers' advisory scene. Apps make it easy and convenient for readers to get book recommendations on the go. And the more we empower our users to use RA tools themselves to find books, the more great reads they can find!
Kristen Caschera is a branch librarian at London Public Library. She currently sits on the OPLA Readers' Advisory Committee. She can be reached at kristen.caschera [at] lpl.london.on.ca.