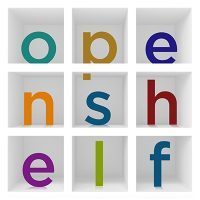 What's New in Open Shelf: September 15, 2015
What's New in Open Shelf? is a Table of Contents of sorts. Open Shelf publishes when we have compelling new material. Every two weeks is our plan.
In this release we feature speaker contracts, accessibility competencies, bullying, reading about reading, and well-being.
Ever wonder why you've never seen Dolly Parton at SuperConference? OK, probably not. What about Neil Gaiman? Now we're talking. Well don't hold your breath. In Scandal, Demand & Scheduling or Why We Don't Get Some of the Speakers You Asked For, the latest instalment of the Bird's Eye column, OLA Executive Director Shelagh Paterson explains some of the mysteries of keynote speakers at the conference.
In the second part of her series on accessibility, Katya Pereyaslavska explores Emerging Librarian Competencies: Accessibility as a Core Competency. As accessibility issues become increasing important for reasons of both legislation and service equity, Katya outlines sources and strategies to help the new librarian develop the necessary expertise.
On the Edge: YA Fiction is a special series by Samantha Marchello examining young adult fiction that focuses on sensitive or controversial issues. This time the topic is Bullying and it's personal.
As librarians, library workers, and those who support libraries, we spend a lot of time talking about the importance of reading. That's what the Readers' Advisory column is all about. But have you read the research literature on reading? Do you know what scholars are saying about the nature of reading and the reader? Pauline Dewan thinks you should and in Reading about Reading: Elevate Your Work from a Job to a Passion she provides an overview and some recommended sources.
Can public libraries contribute to individual and community well-being? John Pateman thinks so and the literature backs him up. In Public Libraries and Well-being, the latest instalment of the Open for All? column, John explores the relationship between library membership and personal well-being. And yes, reading has something to do with it.
As always, let us know what you think of Open Shelf.
…Mike Ridley
Editor-in-Chief, Open Shelf
@OpenShelfOLA