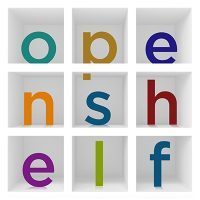 What's New in Open Shelf: October 1, 2015
What's New in Open Shelf? is a Table of Contents of sorts. Open Shelf publishes when we have compelling new material. Every two weeks is our plan.
In this release we feature digital badges, music copyright, Avery Swartz, Iqaluit, and InsideOCULA.
Badges aren't just for Girl Guides or Boy Scouts anymore. The rise of digital badges is having a impact in education as Erin Fields explains in Open Digital Badges: the New Education Credential, a primary on what it all means and how you can get involved.
Open Shelf has teamed up with the Canadian Library Association to continue the publication of the columns of the CLA Copyright Committee. These columns provide a detailed consideration of current copyright issues. The first article in this new column is Unraveling the Complexity of Music Copyright from John Tooth, Becky Smith and Jeannie Bail.
Ever wanted to know more about the keynote and spotlight speakers coming to the OLA Super Conference in 2016? We did. And so Annesha Hutchinson is going to interview them …. in a fairly idiosyncratic way. First up is Avery Swartz, OLITA Spotlight Speaker.
Far too rarely do we talk about libraries in the North. The challenges libraries face in these regions are both familiar and very different. Ali Abbas Mehboob Hirji is an IT expert who confesses to not know too much about libraries. But during a visit to Iqaluit he encountered the Iqaluit Centennial Library and was moved to write about it in was in A Library in the Place of Many Fish.
And finally, this release of Open Shelf includes InsideOCULA for October 2015. The newsletter of the Ontario College and University Libraries Association includes stories about research into user behaviour and the recent Access conference in Toronto.
As always, let us know what you think of Open Shelf.
…Mike Ridley
Editor-in-Chief, Open Shelf
@OpenShelfOLA