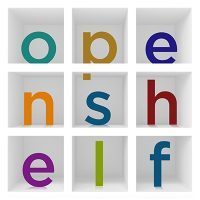 What's New in Open Shelf: December 1, 2015
What's New in Open Shelf? is a Table of Contents of sorts. Open Shelf publishes when we have compelling new material. Every two weeks is our plan.
In this release we feature top YA picks, copyright and photography, information governance (part 3), archival materials, Darrell Dennis and Wendy Newman.
For the final 2015 instalment of the On the Edge: YA Fiction column, Samantha Marchello selects her top picks of the year: Sam's Top Three Tough Issue Books of 2015.
Open Shelf has teamed up with the Canadian Library Association to continue the publication of the columns of the CLA Copyright Committee. These columns provide a detailed consideration of current copyright issues. The three article in this new column is Copyright in Photographs in Canada Since 2012 from Margaret Ann Wilkinson, Carolyn Soltau and Tierney Deluzio.
Over the year Chris Graves has been writing a series on information governance as part of his Red Sea Dispatches column. The last of the three parts, Policy Driven Integrated Decisions, ties together many of the key ideas through interviews with selected individuals.
Managing archival materials in a small public library can be very challenging. R. A. Priddle provides some guidance, best practices, and warnings in Time-bombs, Technology, and Training.
Ever wanted to know more about the keynote and spotlight speakers coming to the OLA Super Conference in 2016? We did. And so Annesha Hutchinson is going to interview them …. in a fairly idiosyncratic way. In this release: Darrell Dennis (Aboriginal Spotlight Speaker) and Wendy Newman (OSLA Spotlight Speaker)
Just a note that Open Shelf gives its staff time off for the holidays. The next release will be January 15, 2016.
As we come to the end of the year, it's always a good time to acknowledge the efforts of the many who make Open Shelf possible. First, a heartfelt thanks to our writers; we are clearly nothing without their contributions (you should join them!). Second, the Open Shelf Board Editorial Board for their continued guidance and assistance. Third, the multi-talented and supremely dedicated staff of the Ontario Library Association (wonderful and extraordinary folks). And finally, a very big thanks to you the reader. I hope you continue to enjoy the magazine.
As always, let us know what you think of Open Shelf.
…Mike Ridley
Editor-in-Chief, Open Shelf
@OpenShelfOLA