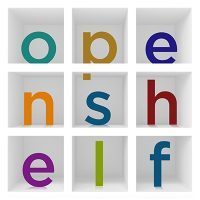 What's New in Open Shelf: July 15, 2016
What's New in Open Shelf? is a Table of Contents of sorts. Open Shelf publishes when we have compelling new material. Every two weeks is our plan.
In this release we feature Tom Bentley, unmet needs, librarians & archivists, beyond books, and Lina Kim.
In the latest instalment of Random Library Generator Adele Georgievski interviews Tom Bentley. It's all about Split Enz, the Foo Fighters, bananas …. and some library stuff too.
Do libraries focus on the unmeet needs in our communities? In Prioritizing Library Services For Those With the Greatest Needs John Pateman explains why "the Community-Led library focuses on potential or lapsed users, who make up 40% of the community".
Amanda Etches continues her entertaining Incidentally column with A Librarian at an Archivist Conference. What happens when professional worlds collide (or perhaps meld)?
Libraries aren't just about books. Bessie Sullivan explores library collections and library lending beyond the books in What About the Books?
Sarah Macintyre's The Library IT Crowd interviews have introduced us to some of the wonderful technology folks in our libraries. This time it's Lina Kim from the Toronto Public Library.
A few reminders:
Open Shelf is looking for a new Editor-in-Chief. Perhaps it is you? Details here.
The August 1st release of Open Shelf will be a "greatest hits" package i.e. the articles with the greatest number of hits (views). If there was an award for these, we'd called them "The Shelfies."
And lastly, we don't publish an August 15th issue (in order to let the hundreds of Open Shelf staffers have a vacation). See you again with the September 1st issue.
As always, let us know what you think of Open Shelf.
…Mike Ridley
Editor-in-Chief, Open Shelf
@OpenShelfOLA