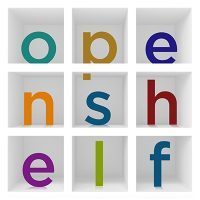 What's New in Open Shelf: October 15, 2016
What's New in Open Shelf? is a Table of Contents of sorts. Open Shelf publishes when we have compelling new material. Every two weeks is our plan.
In this release we feature bravery, hotspots, collaboration, genre plans, openness, and Friends.
Be brave. Easier said than done. In Bravery in Collaboration Jennifer Brown explores bravery as an essential feature of how we work together.
In the fourth of a series of articles curated by Catherine Coles called More Than Just Books we hear from Jessica Veldman. Connecting Communities at the Wellington County Library is about their very successful hotspot lending service. 
What has OLA done for you recently? Good question. In the return of her Bird's Eye column, OLA ED Shelagh Paterson talks about Common Purpose Collaboration. And in answer to the question: lots!
Apparently "the biggest cause of RA angst is keeping up with books and genres." Pauline Dewan is back to provide some helpful suggestions in "So Many Books, So Little Time": Creating Your Own Genre Plan.
"We found that those who needed libraries the most (those with the greatest needs) often used them the least." In Open to All? John Pateman reflects on the 2000 report of the same name and how its recommendations still resonate and challenge us.
The Trees and Forests column from Bessie Sullivan is back! This time Bessie takes on friends … Let's talk about the 'F' Word!
As always, let us know what you think of Open Shelf.
…Mike Ridley
Editor-in-Chief, Open Shelf