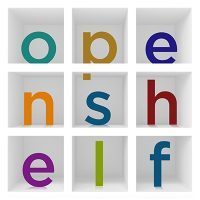 What's New in Open Shelf: January 15, 2017
What's New in Open Shelf? is a Table of Contents of sorts. Open Shelf publishes when we have compelling new material. Every two weeks is our plan.
In this release we feature the library service desk, Mita Williams, reading journals, RA training, and Helen McDonnell.
The Library Service Desk. John Pateman takes down the desk, metaphorically and literally in Libraries in Society.
Sarah Macintrye's latest The IT Crowd interview features, IMHO, one of our community's most inspiring and creative visionaries: Mita Williams.
"Has your mind ever drawn a blank when a customer asks your opinion about a book? You know you read it but can't remember anything about it. If this has happened to you, you are not alone." Andrea Dunn has help: Remembering What You Read: Reading Journals & Collection Knowledge.
Training library staff in Readers' Advisory is important. Establishing a culture of RA is essential. Bessie Sullivan explains in Formal Training Isn't Enough.
"We serve a population of approximately 4000 people and our library right now is only 1000 square feet." Find out why this is changing as the Random Library Generator column interviews Helen McDonnell of the Callendar Public Library.
Lastly, I will be stepping down as Editor-in-Chief in February. I'm delighted that Martha Attridge Bufton will be assuming the role as Editor-in-Chief. Martha's expertise, creativity, and vision promise to lead Open Shelf into wonderful new realms. All the very best to Martha.
As always, let us know what you think of Open Shelf.
…Mike Ridley
Editor-in-Chief, Open Shelf