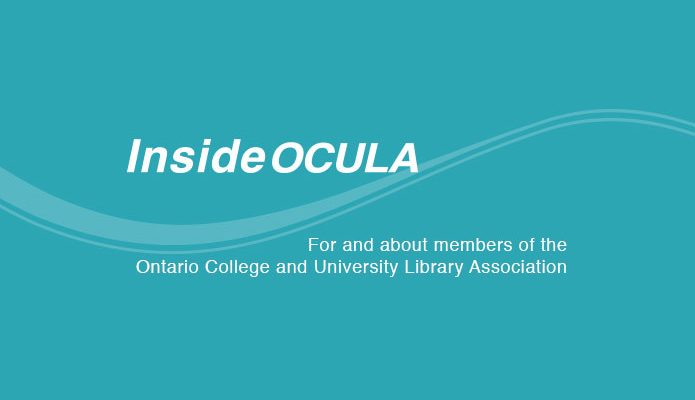 InsideOCULA Newsletter: March 2015
Welcome to the March 2015 issue of InsideOCULA. This month's issue includes:
Library Pre-Shows: Making the Most of a Captive Audience by Mark Weiler
Snapshot from OLA SuperConference 2015: Suffering from Library Anxiety? by Katey Stickle
Library Programs Should Be interdisciplinary by Julia King
"It's Like the Wild West Out There": Faculty Attitudes Towards Open Access Publishing by Ian Gibson, Barbara McDonald, Carol Stephenson, and Elizabeth Yates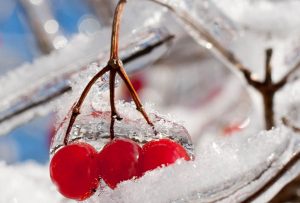 Editors' message
Welcome to March! Believe or not, but we're getting tha-a-a-t much closer to spring, even though it's hard to imagine being able to step outside without spending 15 minutes getting bundled up against the cold. Let's home you're warm and cozy – and perhaps sipping a cup of tea – while reading the great stories we've got for you this month.
Mark Weiler, a new librarian at Brock University, brings a silver screen sensibility to library instruction by using a library pre-show: a looping slideshow that engages students with questions and fun facts about information literacy and the library. Our March issue also highlights student presentations at OLA Super Conference. In her article, Snapshot from OLA: Suffering from Library Anxiety? OCULA practicum student Katey Stickle talks to some of her colleagues about their OLA presentation and about anxiety among LIS students. And in her article, Library Programs Should be Interdisciplinary, 2015 OCULA Lightning Strikes winner, Julia King discusses the value of interdiciplinarity in LIS programs and gives us her perspective on the OCULA Lightning Strikes contest. And as part of our Research Spotlight feature, Ian Gibson, Barbara McDonald, Carol Stephenson, and Elizabeth Yates review their investigation of faculty attitudes to Open Access in "It's Like the Wild West Out There": Faculty Attitudes Towards Open Access Publishing.
Enjoy!
Jenaya Webb and Elizabeth Yates, co-editors-in chief, InsideOCULA
And now a word from OCULA president Shanna Pearson:
Hello everyone,
As the 2015 OCULA President, I'd like to say how excited I am for the year ahead. Serving you on this year's Council is a diverse and enthusiastic group of members who are already hard at work planning professional development opportunities that are fun, inspirational, and facilitate conversations between our members. We will also continue to focus on strategic activities to strengthen the academic library community, including developing a fundraising plan for the New Librarian Resident Award (NLRA), creating a knowledge management system for Council activities, and devising an assessment strategy for OCULA events and member needs.
Please join me in giving a warm welcome to our 2015 OCULA Council. Joining us on the Executive Council are Denise Smith as Vice President / President-Elect and Sophia Apostol as Past President. Our Councillors-at-Large are Sharon Munro, Peter Duerr, Fiona Inglis, Jack Young and Jessica Samuels. Jeannie An and Paula Cardozo are OCULA Super Conference Planners, and Jenaya Webb and Elizabeth Yates are Co-Editors-in-Chief for InsideOCULA. Our New Librarian Resident, Caleb Domsy, will be with us until August.
We hope to see many of you at the OCULA Spring Conference on April 24, 2015, in beautiful Jordan Station, where together we will cross into unchartered thresholds in academic libraries.