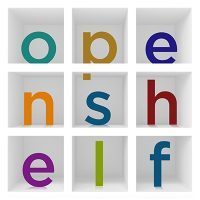 What's New in Open Shelf: April 1, 2015
What's New in Open Shelf? is a Table of Contents of sorts. Open Shelf publishes when we have compelling new material. Every two weeks is our plan.
In this release we feature politics, study rooms, SuperConference 2016, more politics, Dewey classification, and library architecture.
[Editor's Note: This Special Issue of Open Shelf is being edited by the renowned CEO of the Erehwon Public Library.]
As Guest Editor of Open Shelf I have tried to expand the perspective of the magazine from its cringeworthy focus on professional integrity and self-satisfied cheerleading. You haven't seen this before!
To start, Open Shelf brings you this Breaking News: Canada to Be Library Super Power! So much for the "Library is Dead" whinging. Canada's plan for world domination involves us! And learn about the secret ambition of our Prime Minister! Who knew?!
And aren't we a creative bunch? Just look at what those folks at the University of Guelph are doing. In Going Up! A DIY Study Innovation! This idea will lift your spirits and elevate your expectations.
Speaking of innovation, Shelagh Paterson (Executive Director of OLA) and I debriefed about SuperConference 2015 and decided some changes were needed. We are very excited to announce News About SuperConference 2016. Guess where you are going next year!
Sometimes stories are right under our feet. Prepare to be amazed: The Toronto Tunnel: You Won't Believe the Real Story!
Wow! We didn't see this coming. The news from the Prime Minister's Office is stunning. Read all about it in I Was Wrong!
Classify this one under: undying gratitude! The American Library Association amends the Dewey Decimal System. And its a death defying story!
We wrap up this Special Issue with a survey of new library buildings: Architecture Special: You Won't Believe What Libraries Look Like Now! As libraries strive for that highest honour, to be a tourist destination, we reveal the best of the best.
As always, let us know what you think of Open Shelf.
April Foolish, CEO, Erehwon Public Library
Guest Editor, Special April Edition of Open Shelf