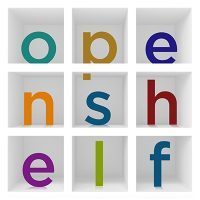 What's New in Open Shelf: April 15, 2015
What's New in Open Shelf? is a Table of Contents of sorts. Open Shelf publishes when we have compelling new material. Every two weeks is our plan.
In this release we feature maker culture, organizational culture, information governance, and reading journals. 
Makerspaces, yes! But maker culture first. Jonathan Younker makes an eloquent and impassioned plea for the importance of culture: In Praise of Maker Culture.
Nothing raises our blood pressure like dysfunctional organizational culture. Why do we do the things we do? Because we've always done it that way! John Pateman takes on culture in public libraries in Developing a Community-Led Service Culture.
What is "information governance" (IG) and why should you care? As part of his column, the Red Sea Dispatches, Chris Graves explores IG in this first of a three part series: Would the Real Information Governance Please Stand Up.
Trying to recommend a book to a user but you just can't seem to recall the title? And it was such a good book. Lindsay Tyler has the answer: Building Your RA Knowledge Through Reading Journals.
As always, let us know what you think of Open Shelf.
…Mike Ridley
Editor-in-Chief, Open Shelf