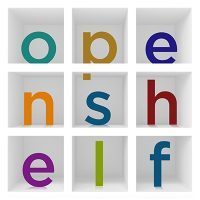 What's New in Open Shelf: February 15, 2015
What's New in Open Shelf? is a Table of Contents of sorts. Open Shelf publishes when we have compelling new material. Every two weeks is our plan.
In this release it's all about Bill C-51, newbies, zines, Digital Library North, services, and the February issue of InsideOCULA.
The recently tabled Anti-Terrorism legislation (Bill C-51) introduces new and broad powers for many security agencies in Canada. There are enormous implications for libraries. Todd Kyle, as part of his Policy Wonk column, explores this in Painted Into a Corner: Libraries and Bill C-51.
On a happier note, we were all newbies once. We all had to learn the roles in our first professional job. Denise Smith sympathizes and provides some advice in You're a New (and Employed) Librarian, Now What?
If you thought zines disappeared with blogs … think again. The Chattanooga Public Library Zine Library, as described by Mary Barnett, is an archive, a workshop, and the basis for a festival. Very cool.
Paulette Rothbauer's Research for Practice column features academic perspectives on the work we do. In Digital Library North, Ali Shiri and Dinesh Rathi discuss their project to implement a robust and responsive digital library in the Canadian north. The challenges are many but the opportunities are significant.
Open for All? explores some of the core concepts in public libraries. John Pateman's column continues in this release with Services. How are public library services determined? By whom and for whom? As with previous columns, Pateman suggests some strategies and some concerns.
And finally, this release of Open Shelf includes InsideOCULA for February 2015. The newsletter of the Ontario College and University Libraries Association includes stories about government documents, unpaid labour in academic libraries, and the reflections of the OCULA Librarian-in-Residence.
As always, let us know what you think of Open Shelf.
…Mike Ridley
Editor-in-Chief, Open Shelf