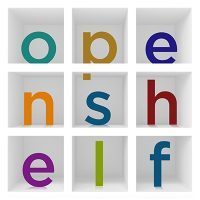 What's New in Open Shelf: March 15, 2016
What's New in Open Shelf? is a Table of Contents of sorts. Open Shelf publishes when we have compelling new material. Every two weeks is our plan.
In this release we feature unapologetic reading, science week, lightning talks, studying in the UK, traditional libraries, and Melanie Parlette-Stewart.
In the latest Readers' Advisory column (edited by Melanie Kindrachuk), the title of Bessie Sullivan's article says it all: Promoting Shameless, Unapologetic Reading.
A crew from the McMaster Libraries review what they did for Science Literacy Week at McMaster. Promotion, partnership, planning, and good fun made this series of events successful.
Lightning Talks are short, focused, and intense. And just to keep the pressure on, they are recorded. Welcome to this year's OCULA Lightning Strikes Talks 2016 (from Lisa Levesque, Emily Newman, Amelia Clarkson, Carolyn Pecoskie, Kevin Tanner, and Jessica Whyte).
Who doesn't want to run away from home? Especially if that means going to the UK! In Crossing the Pond: MLIS Students Researching in the UK, Martha Attridge Bufton describes her experience with the University of Southern Mississippi, British Studies Program.
It doesn't get more provocative than this. According to John Pateman (Open for All? columnist), the "Traditional Library" (of which there continue to be many) is an "agency of social control rather than social change." In Old Wine In New Bottles: The Traditional Public Library Pateman looks back to 1915 to measure how little things have changed.
Melanie Parlette-Stewart is the latest OLA member to be featured in Adele Georgievski's Random Library Generator column. It's a special fashion and illustration edition!
As always, let us know what you think of Open Shelf.
…Mike Ridley
Editor-in-Chief, Open Shelf
@OpenShelfOLA