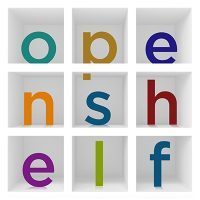 What's New in Open Shelf: May 15, 2016
What's New in Open Shelf? is a Table of Contents of sorts. Open Shelf publishes when we have compelling new material. Every two weeks is our plan.
In this release we feature staff satisfaction, front-line staff, Michelle Goodridge, Jessica Veldman, and Minecraft & 3D printing.
What motivates staff? Why do they work in libraries? With this release we have two articles about staff in libraries: News from Nowhere: The Needs Based Library from John Pateman and Why Do We Do What We Do? from Bessie Sullivan. John's column continues his Open for All? series. With Bessie's article we welcome her as a new columnist with her Trees and Forests column (which will present a public library perspective from a certain part of Ontario).
The Random Library Generator continues to generate! This time the featured OLA member is Michelle Goodridge. In her interview with Adele Georgievski, Michelle talks about games, games, and more gamaes ….. it's her job!
The Library IT Crowd is a series where Sarah Macintyre interviews tech leaders in our community. In this release Jessica Veldman talks about her work at the Wellington County Library (the ILS, 3D printers, makerspace technologies, OverDrive, etc. etc. etc.).
And lastly, Minecraft. Haven't heard of Minecraft? Didn't think so. 3D printing? Ditto. Eric Liebregts explores what happens when the two go together: Minecraft and 3D Printing Meet at St. Thomas Public Library.
As always, let us know what you think of Open Shelf.
…Mike Ridley
Editor-in-Chief, Open Shelf
@OpenShelfOLA