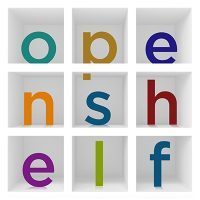 What's New in Open Shelf? November 15, 2014
What's New in Open Shelf? is a Table of Contents of sorts. Open Shelf publishes when we have compelling new material. Every two weeks is our plan.
In this release we look into accessibility, the nature of music genre, class and libraries, and the new Royal Society of Canada report. We also issue the most recent InsideOCULA newsletter with numerous stories relevant to academic libraries and librarians.
Attention to accessibility issues and concerns is now the new normal but it isn't always so easy to put into action. Katya Pereyaslavska, Scholars Portal Accessibility Librarian at the Ontario Council of University Libraries (OCUL), comes to the rescue with her Elevator Speech on Accessibility.
Highlighting research relevant to professional practice is the focus on the column curated by Paulette Rothbauer (Western University). In the latest Research for Practice column, Jason Neal investigates the importance and limitations of genre as a discovery or classification issue in The Persistence and Problems of Music Genre.
InsideOCULA, the newsletter of the Ontario College and University Library Association, is a regular feature of Open Shelf. The November issue of InsideOCULA includes stories of innovation from around the province, an intriguing research project about the image of archivists, and an analysis of the provocative ACRL Framework for Information Literacy in Higher Education.
Our Keeping Current column provides insights from the literature. John Pateman continues his interest in how class structures impact public libraries in his reflections on the recently published Alien Nation? New Perspectives on the White Working Class and Disengagement in Britain.
And lastly, the Royal Society of Canada Expert Panel report on the future of libraries and archives has just been released. In the From the Editor column I talk about the importance of this report and why you should read it ASAP.
As always, let us know what you think of Open Shelf.
…Mike Ridley
Editor-in-Chief, Open Shelf