Around the province: Ryerson plans new learning centre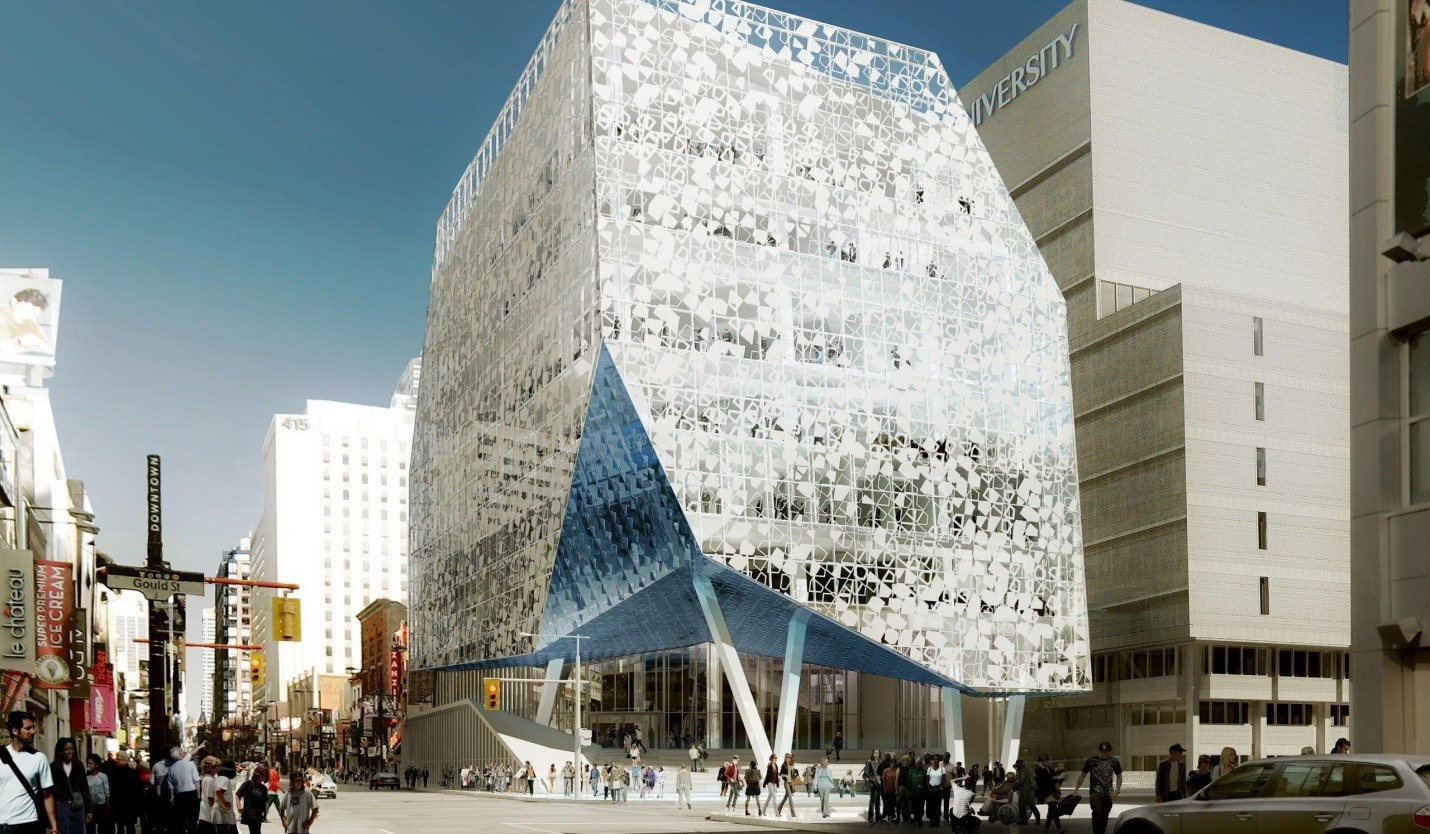 Currently under construction at the corner of Yonge and Gould Streets in Toronto, Ryerson University's new Student Learning Centre will provide students with an outstanding environment in which to study, collaborate and discover.
The eight-storey centre represents approximately 155,466 square feet of additional space. It will feature a glass façade, a bridge to the existing library building, retail space at and below grade on Yonge Street and a range of interactive and collaborative study spaces and services to facilitate knowledge discovery.   Designed through a partnership between Snøhetta and Zeidler Partnership Architects, the building is projected to open in January 2015.
Each floor of the centre will have unique design elements that reflect the multifunctional uses of the building. Way-finding kiosks will provide users with basic directional support, in conjunction with a welcome desk on the main floor.  Casual study space adjacent to a café will be an informal learning environment that encourages social interaction and conversation.  Students requiring a more serious study environment will be able to book group study rooms or use quiet study areas to work independently.
In addition to study space, providing academic support services to enhance students' skills is a core component of the centre's programming.  The Digital Media Experience will enhance digital media skills by providing workshops and one-on-one instruction in the use of advanced digital technologies.  The Digital Media Zone, Ryerson's innovation and technology incubator, will also have space in the centre, providing opportunities for students to apply entrepreneurial thinking, experiential learning and social innovation to their own start-up company.
A range of support services previously housed in different parts of the university will now be located in the new building, providing students with a single destination for academic support. Library Learning Services, as well as the Writing Centre, Math Assistance Centre, English Language Support and Accessibility Services will share space on a common floor.
In addition to sharing the physical space, staff in these support services will be able to collaborate and blend their talents to offer a seamless delivery of services in the SLC, as well as an enhanced awareness of the range of available student services.
Cecile Farnum is a Communications and Liaison Librarian at Ryerson University.