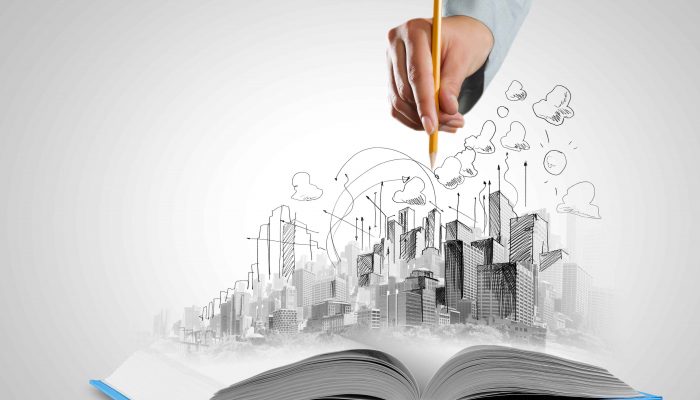 Architecture Special: You Won't Believe What Libraries Look Like Now!
Re-imagining library buildings is on everyone's mind. We want rock star architects. We want destination buildings. We want to look like anything but …. libraries.
The Open Shelf Architectural Awards jury scoured the world (well, maybe the Internet) for the best of the best. Libraries have never looked better. Let's see winners!
Winner! New Public Library Building.
The Chief Librarian/CEO may be a basket case but not the new library. It's not hampered by anything. It can handle all the expectations of a hungry public. You can certainly dine out on this one.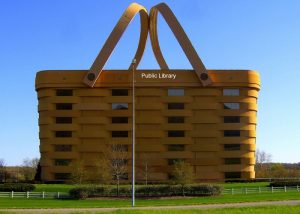 Winner! New University Library Building.
The Ontario government said "differentiate" to the higher education sector and Carp University took the message hook, line, and sinker. There's clearly a tale behind this building. It was fin-ished only a few weeks ago but it obviously scaled up nicely.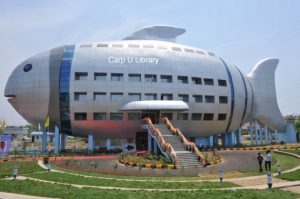 Winner! New Branch Library.
Branch libraries can be … well, dull. Really dull. Utterly dull. Dull. Dull. Dull. Here's a design that upsets our expectations. The town council flipped over the Erehwon Public Library, Upside Branch. And who could blame them, its a reversal of the status quo.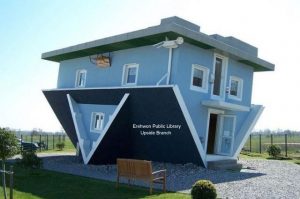 Winner! Technical Achievement.
Everyone knows how those pesky HVAC systems take up all the room in any new building. The winner for Technical Achievement solved that: put it in the outside! Brilliant idea. Please note this library was also entered in the Library Aesthetic Achievement Award …. where it came last.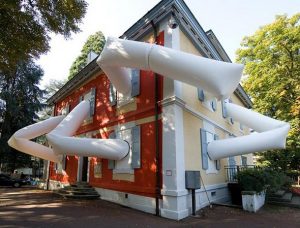 Of course, not all new library buildings are successful. Like this one, some are so innocuous that they sink out of sight quickly.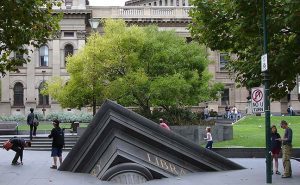 Congratulations to the winners.
Open Shelf Architectural Awards Jury, April Foolish (Jury Chair)
April Foolish is the CEO at the Erehwon Public Library.
For more articles from the Special Issue of Open Shelf see the Table of Contents.