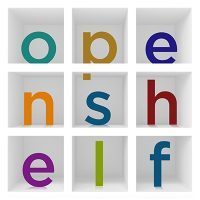 What's New in Open Shelf: July 1, 2015
What's New in Open Shelf? is a Table of Contents of sorts. Open Shelf publishes when we have compelling new material. Every two weeks is our plan.
In this release we feature social justice, information governance, Bailey Urso, and the July issue of InsideOCULA.
Reprint: Stories from Access is a special feature of Open Shelf that re-issues articles from Access, the former print quarterly of OLA. With this release we feature Social Justice Librarianship for the 21st Century by Mita Williams and Lisa Sloniowski (first published in Summer 2012). They remind us that "we sit squarely in the social conscience of the information world."
And the nature of the information world is the topic of Chris Graves' three part consideration of information governance. In part two, Information Governance by Design, Chris discusses recordkeeping principle and focuses on a key word: accountability.
The Random Library Generator column continues. This time we meet Bailey Urso. We find out about climbing, aerial yoga, archeology and, of course, medical librarianship.
And finally, this release of Open Shelf includes InsideOCULA for July 2015. The newsletter of the Ontario College and University Libraries Association includes stories about virtual reality, collaborative futures, and participant-driven photo-elicitation research.
As always, let us know what you think of Open Shelf.
…Mike Ridley
Editor-in-Chief, Open Shelf