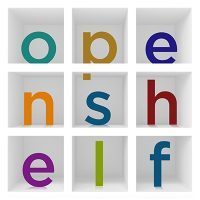 What's New in Open Shelf: November 1, 2105
What's New in Open Shelf? is a Table of Contents of sorts. Open Shelf publishes when we have compelling new material. Every two weeks is our plan.
In this release we feature community hubs, the public lending right, YA fiction about disabilities, Aaron DeVries, Caroline Haythornthwaite, Susan Cleyle and insideOCULA.
With public libraries facing unprecedented challenges, here's a good news story from Kimberly McMunn at the Hasting Highlands Public Library: Program Turnout Without Resource Burnout: A Case for Community Hubs.
Open Shelf has teamed up with the Canadian Library Association to continue the publication of the columns of the CLA Copyright Committee. These columns provide a detailed consideration of current copyright issues. The second article in this new column is The Public Lending Right in Canada: a Librarian's Perspective by Rob Tiessen.
On the Edge: YA Fiction is a special series by Samantha Marchello examining young adult fiction that focuses on sensitive or controversial issues. This time the topic is Disability.
Vandalism, pregnancy, camping, music production, and Martians. How could these all go together? Read the latest installment of Random Library Generator as Adele Georgievski talks with Aaron DeVries.
Ever wanted to know more about the keynote and spotlight speakers coming to the OLA Super Conference in 2016? We did. And so Annesha Hutchinson is going to interview them …. in a fairly idiosyncratic way. In this release: Caroline Haythornthwaite (OCULA Spotlight Speaker) and Susan Cleyle (Careers Spotlight Speaker).
And finally, this release of Open Shelf includes InsideOCULA for November 2015. The newsletter of the Ontario College and University Libraries Association includes stories about a job exchange, digital literacy and creative spaces, social media and Open Access Week.
As always, let us know what you think of Open Shelf.
…Mike Ridley
Editor-in-Chief, Open Shelf
@OpenShelfOLA