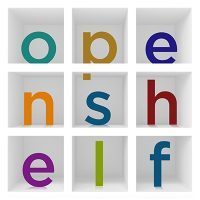 What's New in Open Shelf: January 15, 2016
What's New in Open Shelf? is a Table of Contents of sorts. Open Shelf publishes when we have compelling new material. Every two weeks is our plan.
In this release we feature library neutrality, readers' advisory conversations, accessibility policy, privacy in library services, the Guelph Library Project, and Sean Hayes.
Not unexpectedly, John Pateman takes a stand. This time in Open for All? it's Roads and Fences: the Myth of Public Library Neutrality. As Gabriel García Márquez said "If you don't take care of politics, politics will take care of you."
"Have you ever had a really great conversation with someone about books?" So begins Diana Krawczyk's Enjoy the Conversation as she talks about talking about books. The latest entry in the Readers' Advisory series.
With accessibility issues receiving such prominence in libraries, it was quite a surprise to find that most students are unaware of AODA, the very legislation designed to assist them. Athol Gow reports on this in Academic Libraries and the Development of Accessibility Policy.
Libraries want to support their users and help them where they can. But they also have to respect privacy concerns. In Privacy Concerns & Access to Information in Homebound Services Charmaine Atrooshi discusses how the Ottawa Public Library addressed this issue.
The Guelph Library Project (really a course I taught at the University of Guelph last fall) comes to a conclusion with the release of their Final Report. Read about the project and read the report.
Will & Grace and David Byrne. You'll have to read the Random Library Generator interview with Sean Hayes to find out why they have anything to do with being an archivist.
As always, let us know what you think of Open Shelf.
…Mike Ridley
Editor-in-Chief, Open Shelf
@OpenShelfOLA