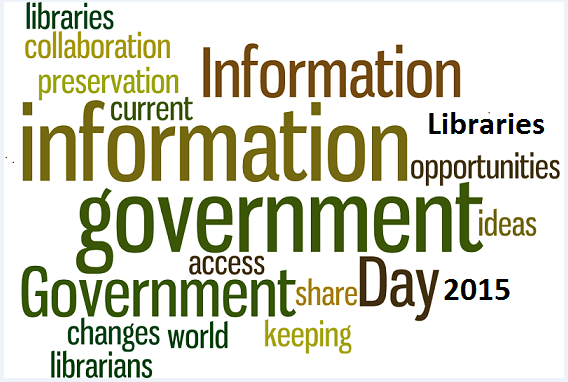 The Third Government Information Day in Ontario
It's hard to believe, that this was only the third Government Information Day (GID) organized in Ontario. The first was organized in 2013 by the University of Toronto Library; the second by the University of Ottawa Library in 2014. Both events were huge successes and provided opportunities to share information and identify common interests among participants.
The third Ontario GID was hosted by the libraries of Wilfrid Laurier University and the University of Waterloo. The event took place at the Balsillie School of International Affairs in Waterloo on Dec. 7. The objective of this conference was to provide a forum for librarians, archivists, faculty, public servants from all levels of government, and all those interested or involved in government information to meet and to discuss current issues surrounding government information. As in previous years, the conference's program included many interesting presentations on a variety of topics.
First, we heard from Jennifer Spencer, Research Librarian at the Centre for International Governance Innovation (CIGI). Jennifer talked about the research areas of CIGI and the importance of international government information. She discussed challenges and strategies related to finding and accessing government information published by developing countries and non-democratic states.
Our next speaker, Alistair Edgar, the Executive Director of the Academic Council on the United Nations System (ACUNS) provided an overview of what ACUNS does and of the World Summit on the Information Society (WSIS), its achievements, and its role as a global Information and Communication Technologies (ICT) initiative. The next WSIS Forum, an annual, international gathering of the 'ICT for development' community, will occur in Switzerland, in May 2016.
This year, another important anniversary occurs: the 250th anniversary of the first Freedom of Information (FOI) legislation. Mark Weiler, the Web & User Experience Librarian at Wilfrid Laurier University, gave us an overview of FOI and argued against the characterization of existing FOI procedures as broken or difficult for researchers to use. Libraries have a huge role to play in educating our users on this matter.
Our next guest speakers came from Library and Archives Canada (LAC): Kathryn Lagrandeur, Manager of the Task Force on Government Records, and Tom Smyth, Manager of the Digital Capacity group, Evaluation and Acquisitions Branch.
In the fall of 2014, the Auditor General of Canada identified risks with LAC's approach to government archives. Kathryn spoke about the response to the Auditor General's report and how the Task Force on Government Records was created with two goals in mind: to ensure discoverability of the government records backlog (achieved in December 2015) and to issue disposition authorizations to all federal institutions (ongoing).
Tom gave us an overview of LAC's web renewal and thematic web archival projects. He talked about LAC's web archiving history and the differences in web archiving done by LAC compared to the Internet Archive.
We heard more on web archiving from Ian Milligan, a history professor at the University of Waterloo. Ian and his team have archived the websites of Canadian political parties since 2005. He believes that political information published on the web needs to be preserved so future historians can have a more complete picture of society.
University of Toronto librarians Sam-chin Li, Kyla Everall and Nicholas Worby, provided an update on their partnerships, which include collaborative digitization projects, fugitive documents searching, and web harvesting.
Margaret Wall, a librarian at the University of Toronto, is working on a registry of government information digitization projects in Canada. She gave an overview of the project, its scope and future plans. You can read project updates on the blog govinforegistry.blogspot.ca
Graeme Campbell, Open Government Librarian at Queen's University, Catherine McGoveran, Government Information Librarian at the University of Ottawa, and Michelle Lake, Government Publications Librarian at Concordia University, provided an overview of their project documenting print depository programs across Canada.
The last talk of the day came from Ravit David, from Scholars Portal, who talked about new ways of creating metadata for digital content. According to Ravit, moving away from MARC records enhances data plasticity.
In our opinion, Government Information Day in Ontario 2015 was very successful, and we hope the collaboration and discussion surrounding government information will continue, at least until the next GID in Ontario, which will hopefully happen later in 2016!
Stay tuned for the presentations from GID 2015, which will soon be posted online.