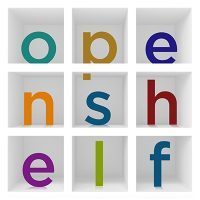 What's New in Open Shelf: April 1, 2016
What's New in Open Shelf? is a Table of Contents of sorts. Open Shelf publishes when we have compelling new material. Every two weeks is our plan.
In this Special Issue we feature New LAC Head, call for papers, books & libraries editorial, A&I revolt, Mr. Trump, and architectural interiors.
[Editor's Note: This Special Issue of Open Shelf is edited by the renowned CEO of the Erehwon Public Library.]
As Guest Editor of Open Shelf I have tried to expand the perspective of the magazine from its cringeworthy focus on professional integrity and self-satisfied cheerleading. You haven't seen this before!
Breaking News! We have a new National Librarian and Archivist! It's a brilliant, if unexpected, appointment. Remember, you saw it on Open Shelf first.
Professional conferences are important ….. or so they tell me. Personally, couldn't be bothered. However, if you need to pad your resumé here's a call for papers or panels at an upcoming conference.
There has been a lot of talk about libraries and the book. Do we ever dislike being defined by "the book." In the spirit of open dialogue my editorial in this issue takes a bold and provocative position: Libraries, Books & Reading: A Critical Commentary. I look forward to your comments.
That University of Guelph. Always at the center of some controversy. Now it's students occupying the Library and demanding …… well, have a read in Students Stage Peaceful Protest Over Electronic Databases.
It seemed inevitable. At some point the Republican frontrunner in the race for the White House had to vie for the elusive "library vote." He may have slightly missed the mark: Trump to Build a Library Wall!
We wrap up this Special Issue with a survey of award winning library interiors: Architecture Special: Library Interiors … Who Knew! Creating spaces for staff and users is our most important goal. And it's way less expensive that actually buying books and stuff.
As always, let us know what you think of Open Shelf.
April Foolish, CEO, Erehwon Public Library
Guest Editor, Special April Edition of Open Shelf