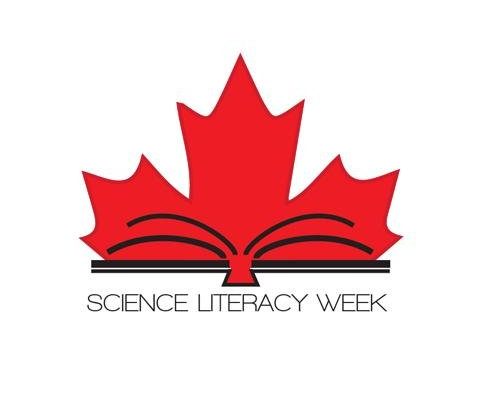 Science Literacy Week: Why Your Library Should Participate
Science Literacy Week is an upcoming nationwide celebration of science scheduled for September 19th-25th.  The week is above all a chance for great science outreach organizations (libraries, museums, science centres and more) to join together and showcase their work in bringing science to the public in a big way.  In its first year (2014), the week had 5 events in Toronto, in its second it had 300 events in 40 cities by 110+ participants.
Libraries form the heart of the event – and it all starts with prominently displayed selections of popular, accessible science books.  Rather than hiding in the back of libraries, the week gives these engaging, exciting reads a chance to see the light of day.  Over 250 individual branch libraries participated last year coast to coast with such displays.

Furthermore, the week provides not only a chance for libraries to create excellent science programs of their own, but also partner as venues for local science groups.  Last year there was a bit of everything involved – nature hikes, astronomy nights, science demos, public lectures – all hosted by libraries.
For 2016, there are already 125 partners and counting, as well as more coordination within cities and more prominent groups helping to spread the word.  This has the potential to become the pre-eminent event in Canada for highlighting just how spectacular our science outreach can be.
Your library can get involved by planning a Science Literacy Week program, event or display and submitting it to Science Literacy: http://scienceliteracy.ca.
Want to know what collections to highlight? The following are some books to consider from a variety of categories. For more ideas, visit our website.
Anthropology
1491 by Charles C. Mann
1493 by Charles C. Mann
Guns, Germs and Steel by Jared Diamond
Collapse by Jared Diamond
Catching Fire by Richard Wrangham
Astronomy/Space
Cosmos by Carl Sagan
Pale Blue Dot by Carl Sagan
Space Chronicles by Neil DeGrasse Tyson
A Man on the Moon by Andrew Chaikin
A Brief History of Time by Stephen Hawking
Biology/Medicine
The Double Helix by James D. Watson
The Selfish Gene by Richard Dawkins
Life Ascending by Nick Lane
The Immortal life of Henrietta Lacks by Rebecca Skloot
Spillover by David Quammen
Chemistry
The Elements by Theodore Gray
Molecules by Theodore Gray
Uncle Tungsten by Oliver Sacks
The Disappearing Spoon by Sam Kean
Science and Society/Science Adventures
An Astronaut's Guide to Life on Earth by Chris Hadfield
Adventures in the Anthropocene by Gaia Vince
The Making of the Atomic Bomb by Richard Rhodes
And the Band Played On by Randy Shilts
What If? by Randall Munroe
Psychology/Brain Science
The Man Who Mistook His Wife for a Hat by Oliver Sacks
The Tale of the Dueling Neurosurgeons by Sam Kean
Thinking Fast and Slow by Daniel Kahneman
Do No Harm by Henry Marsh
Miscellaneous
The Wavewatcher's Companion by Gavin Pretor-Pinney
Stuff Matters by Mark Miodownik
The Cloudspotter's Guide by Gavin Pretor-Pinney
A Short History of Nearly Everything by Bill Bryson
Jesse Hildebrand is the founder of Science Literacy Week. He can be reached at jessehhildebrand [at] gmail.com.