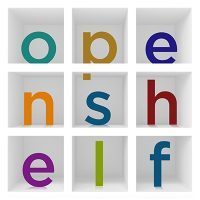 What's New in Open Shelf: October 1, 2016
What's New in Open Shelf? is a Table of Contents of sorts. Open Shelf publishes when we have compelling new material. Every two weeks is our plan.
In this release we feature adventure collections, librarians & the PhD, the Right to Know, and the October issue of InsideOCULA.
In the third of a series of articles curated by Catherine Coles called More Than Just Books we hear from Catherine herself! And it's quite adventurous. Trust me: Adventure Collection at the Lennox & Addington Libraries.
In Academic Librarians & the PhD I ask: Shouldn't academic librarians with faculty status be trained like the rest of faculty? Shouldn't they have a PhD? Let the wild rumpus start.
The High5 column returns with Jennifer Dekker's recommendations on the Right to Know. We've just missed International Right to Know Day for 2016 but consider yourself well prepared for next year.
And finally we have a cornucopia of articles in the October issue of InsideOCULA. Freedom of Information (FOI) testimony, zines at Seneca, the Canadian Association of Professional Academic Librarians (CAPAL) survey, access to government documents, and The Partnership journal (it is hip?).
As always, let us know what you think of Open Shelf.
…Mike Ridley
Editor-in-Chief, Open Shelf