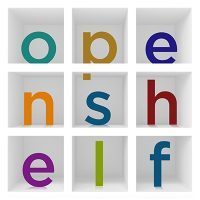 What's New in Open Shelf: November 1, 2016
What's New in Open Shelf? is a Table of Contents of sorts. Open Shelf publishes when we have compelling new material. Every two weeks is our plan.
In this release we feature Nancy Fong, snowshoes, workflows, strategy, and automatic indexing.
Sarah Macintyre's The Library IT Crowd interviews have introduced us to some of the wonderful technology folks in our libraries. This time it's Nancy Fong from the University of Toronto Libraries.
It's not winter …. yet ….. but it still seems like a good time to talk about snowshoes. In the final of a series of articles curated by Catherine Coles called More Than Just Books we hear from Jessica Watts and Snowshoes at the Greater Sudbury Public Library. 
What happens when your enormous collection of media moves from analog to digital? What happens to the workflow? Kathryn Lee gives us a peek inside exactly that at the CBC: Coast to Coast to Coast: Digital File-Based Workflows at the CBC.
Libraries are always talking strategy. In the return of the Keeping Current column, John Pateman (our Open for All? columnist) reviews the 2005 book Blue Ocean Strategy and relates it to libraries: Blue Ocean Strategy & Public Libraries.
Turn up the TermoStat! Can an term extraction tool be used for automatic indexing? Lynne Bowker, Rebecca Mackay, Deni Kasama, and Jairo Buitrago Ciro investigate in Different Views of "aboutness":  Rise of the Machines?
As always, let us know what you think of Open Shelf.
…Mike Ridley
Editor-in-Chief, Open Shelf