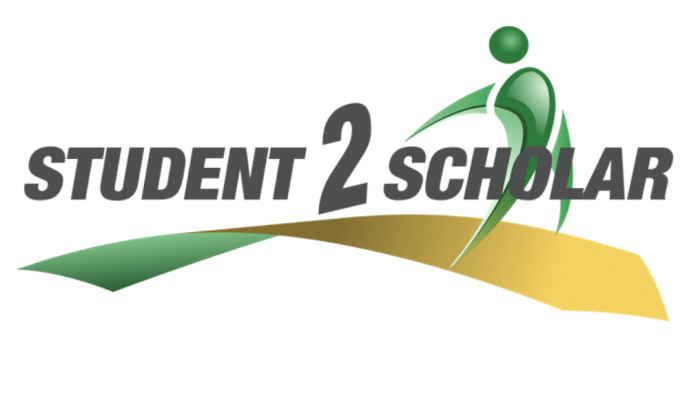 From Student to Scholar: Building Capacity for Graduate Student Academic Literacies and Research Skills
A team from OCUL institutions has created a new, highly interactive and media-rich online resource to help graduate students in the social sciences develop the information and research skills needed for success in today's academic and professional workplaces.
Student2Scholar (S2S) includes ten open-access modules that address academic literacies (e.g., scholarly communication, online personas, and academic integrity) and research skills (e.g., building research plans, advanced search strategies, evaluating information, and citation and data management). Although faculty might assume that graduates are well prepared to undertake research, new students often struggle with research study design, development of research questions, and literature reviews. Online students, who may come from varied academic and cultural backgrounds or who are returning to graduate school after years in the field, have an even greater need to establish strong foundational research skills in the context of changing technologies.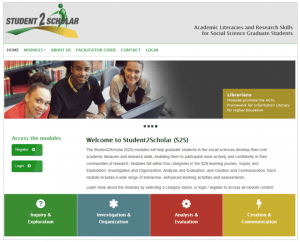 The S2S modules can be used by faculty, librarians and staff who support graduate student research, as they are freely available for public use in programs, courses and workshops. Users can enter any part of any module, or they can progress linearly through each module to completion. Students can re-take activities to re-assess their learning, and can save and print their work to bring to class.
Establishing the learning outcomes for the modules was one of the most challenging aspects of their design. The module series follows the iterative cycle of the research process and derived its learning outcomes from the Association of College & Research Libraries' Framework for Information Literacy for Higher Education and Ontario's Graduate Degree Level Expectations. By incorporating these two frameworks, faculty and learning facilitators can be assured that the modules promote an evidence-based approach to developing information literacy and research abilities, and that they reflect the general competencies expected of anyone graduating with a degree at the same level.
Each module was planned using the principles of backwards design theory, where outcomes are aligned with opportunities to demonstrate achievement through low-stakes activities and assessments. All modules contains a range of pre- and post-assessments, surveys and quizzes, videos, and readings. The modules incorporate evidence-based pedagogies, such as think-alouds, concept maps, and self-reflection exercises that are maintained in a personal online research workbook. Each module takes about three hours to complete. Badges are used to track achievements within each module, and an electronic certificate is issued by email when a module is fully completed. A list of all module activities and a Facilitator's Guide for face-to-face, online, and blended courses accompanies the modules. The guide describes follow-up in-class activities that build on the independent work completed in the modules.
The modules are:
Collecting citations and creating bibliographies

Thinking like a researcher

Defining your research

Introductory search techniques for research

Advanced search techniques for research

Discovering grey literature

Understanding design and authority in research

Publishing and research impact

Your rights and responsibilities as a scholar

Joining the scholarly conversation
This scalable tool can be integrated into any learning environment.
Funded by a $75,000 grant from the Ontario Online Initiative, S2S was realized through a collaboration of three universities. Contributors come from Western University (Faculty of Education, Western Libraries), the University of Toronto (Ontario Institute of Studies in Education Library), and Queen's University (Queen's Education Library). Expert consultant teams and graduate student feedback contributed to the design and testing of the modules.
Student2Scholar was awarded the 2017 Ontario College and University Library Association (OCULA) Special Achievement Award. S2S was also accepted by Peer-Reviewed Instructional Materials Online (PRIMO), a committee of the ACRL Instruction Section, which promotes and shares peer-reviewed instructional materials created by librarians. It was the PRIMO site of the month for July 2016.
The supporting institution libraries have agreed to provide funding to maintain Student2Scholar for the next five years. We welcome the use of some or all of the modules in online guides, as well as in physical and virtual classrooms. Please contact us if you have questions, or would like to schedule a virtual tour of the modules. A lightning round presentation on S2S will be given on April 28th, 2017 at OCULA's Spring Conference.
Dr. Cory Laverty (corinne.laverty@queensu.ca) is Teaching and Learning Specialist for Queen's Centre for Teaching & Learning and Queen's Library. She supports educational research, inquiry-based learning, and academic integrity initiatives across campus.
Dr. Elan Paulson (elan.paulson@uwo.ca) is Director of the Doctor of Education (EdD) in Educational Leadership at Western University's Faculty of Education, providing administrative oversight and evidence-based pedagogy support to this program for scholar-practitioners in different areas of leadership practice.