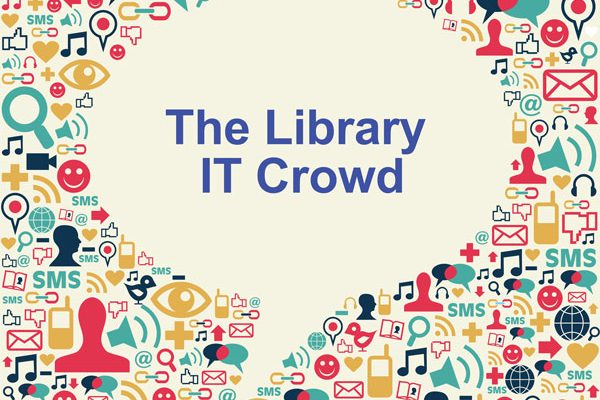 Welcome to The Library IT Crowd, a column brought to you by the Ontario Library and Information Technology Association (OLITA). We showcase some of the great librarians and library professionals currently working with technology, get to know them, and share their experiences! We hope we can inspire you, and shed some light onto what goes on behind the scenes with library tech workers!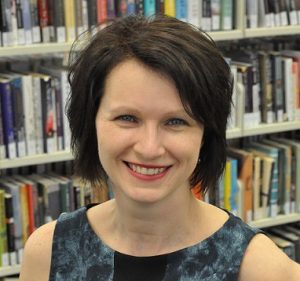 Your name:  Krista Robinson
Your title: Systems Librarian
Where do you work: Stratford Public Library
1) Tell me a little bit about your role. What do you do at your library?
As the Systems Librarian, I manage the integrated library system (ILS) (SirsiDynix's Horizon) and the technical services department. I'm also responsible for all things "tech" at the Stratford Public Library (SPL)—staff technology, public internet stations, MakerSpace technology and technology programming. Additionally, I manage the library's online, social and physical marketing presence and oversee the library building. There is a wide variety of tasks and each day is a different adventure.
2) Tell me a bit about your background. What made you interested in libraries? In technology?
I was a human geography major in university with an interest in GIS and cartography.  In one of our seminars, a professor asked the group to think back to when we were kids and what we wanted to be when we grew up.  I said a librarian. I loved my school library and had been an avid reader ever since I could read.  He asked me if I knew that there was a masters of library science program and I did not. But it sounded interesting, I applied and well … here I am! My first library job was here at the SPL as the Information and Technology Training Librarian, developing a library website for children and running a core suite of technology training classes for the staff and public. The role evolved and I took on more responsibilities until 2012 when I had the opportunity to apply for the systems librarian role.
3) What projects over the past year are you most proud of?
I'm quite proud of the Maker Kit program we launched earlier this year. Maker kits are a means to get maker themed technology into the hands of the public while we wait for our MakerSpace to become a reality. I had a minimal budget to make this happen, just a few hundred dollars leftover in the technology budget line at year end. I purchased affordable tech tools and toys such as Little Bits, Spool Knitting sets, Snap Circuits and various small robots and we also used equipment we already had in-house such as Strawbees. I paired the kits with subject related books and put them in clear backpacks for circulation.  Since the kits launched in late February, they have been constantly circulating. I love that this program is boosting interest in STEAM technologies, which has been demonstrated through an increased use of our STEAM themed print resources.
4) What upcoming projects do you have on the horizon?
I'm really excited about the creation of a MakerSpace later this year! Our library foundation has been working hard to raise the funds to renovate an office and to purchase equipment for this space.  It has been a lot of fun working with a designer as well as researching equipment and tools to include. One benefit of having oversight of both the building and the technology is that I can ensure that we are getting the space we do not just want, but also the space we need to make the MakerSpace a success.
We are also in the midst of investigating a new ILS.  If we decide to move forward with the new system, then my fall will be extremely busy.
5) If you had unlimited funds, what would be your dream project at your library?
I would just love to have a new library building! SPL is located in a 1903 Carnegie building with no space for growth or expansion. We serve over 170,000 visitors annually in our 12,472 net sq.ft. building. I would love to have a building with room for:
a larger MakerSpace than what is possible in our current footprint
space for a training lab
room to expand public technologies, and power to be able to run it all!
Electrical in a century building is a bit if a nightmare …
6) What's your favorite "shoestring" project that you could recommend to others?
A fantastic service we offer which has a minimal financial implication on the library is our technology tutor program. This program allows the public to work with tech savvy volunteers on a drop-in basis. We train volunteers on key digital library services such as Overdrive and Zinio, and then prepare them for working with technology and the public. This service provides our volunteers with meaningful ways to give back to the community and it frees up our technology staff to work on other projects rather than providing technology training on a regular basis.
7) How do you keep up with library technology changes and trends?
I follow a lot of library and technology blogs with Feedly and part of my morning routine is to review the posts, sharing them with coworkers as necessary. I also follow a lot of technology and library accounts on social media, providing new inspiring ideas to my newsfeeds daily. Additionally, I try to get to a number of conferences each year.  OLA SuperConference is a must, as well as other conferences such as ConnectEd, which features technology in education. You never know where your inspiration for new projects will come from!
Sarah Macintyre has been working in libraries for over five years, and has been at St. Thomas Public Library for half that time. In her position, Systems and Support Services Librarian, she has overseen many new digital initiatives, including the launch of the Creators' Community services. She can be reached at smacintyre [at] stthomaspubliclibrary.ca