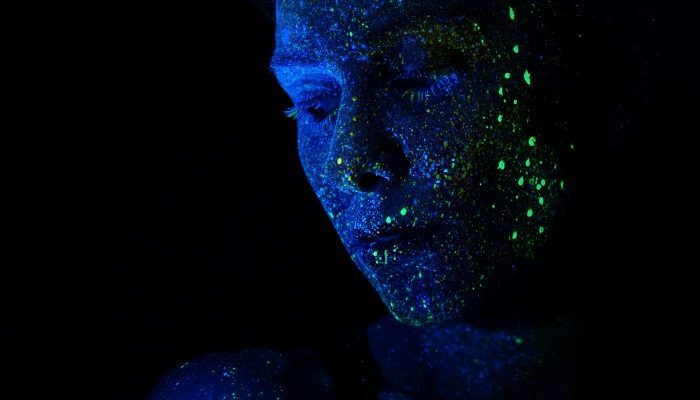 Sharks, dinosaurs, outer space and more … Building comprehensive virtual reality programming
By Richard Anderson and Janice Chuang
Virtual Reality (VR) is an emerging technology that aligns perfectly with our collective service goals to foster innovation and discovery. VR is a computer-generated environment, immersive experienced via VR glasses and headphones. It can be either passively engaged or interactive. The technology may be inexpensive (cardboard glasses and free downloaded apps in a smartphone) or require some investment, with more sophisticated equipment.
Given that VR is such a new and captivating technology, it is not surprising that many library systems—public, academic, and special—are working to incorporate VR into programming. How are we accomplishing this?
In practise, VR programming has served as a more "experiential" asset for many libraries: Customers swim with sharks or walk with dinosaurs as they choose. They travel the Milky Way or throughout the human body nervous system. Experiences like this are great, as they offer library staff and users alike the opportunity to be "early adopters" of new technology. We want libraries to be sites where all can experience innovation and be inspired to innovate. One way to inspire creativity, transformation and indeed, making, is to utilize VR creation tools such as CoSpaces.
At Vaughan Public Libraries (VPL), we have embraced experiential VR because we believe that transporting our customers to other virtual worlds is both educational and tremendously exciting—now and for some time to come. Our starting point was the Virtual Reality at the Library program. First offered in November 2016, Virtual Reality at the Library required participants to pre-register and pay a $5.00 entrance fee. Participants assembled Google Cardboard VR glasses (which they kept), then were guided on a VR tour. Highlighted VR applications included Jurassic VR, Rollercoaster VR, and YouTube. The 90-minute program filled up quickly; later relaunches in 2017 and 2018 also ran at capacity.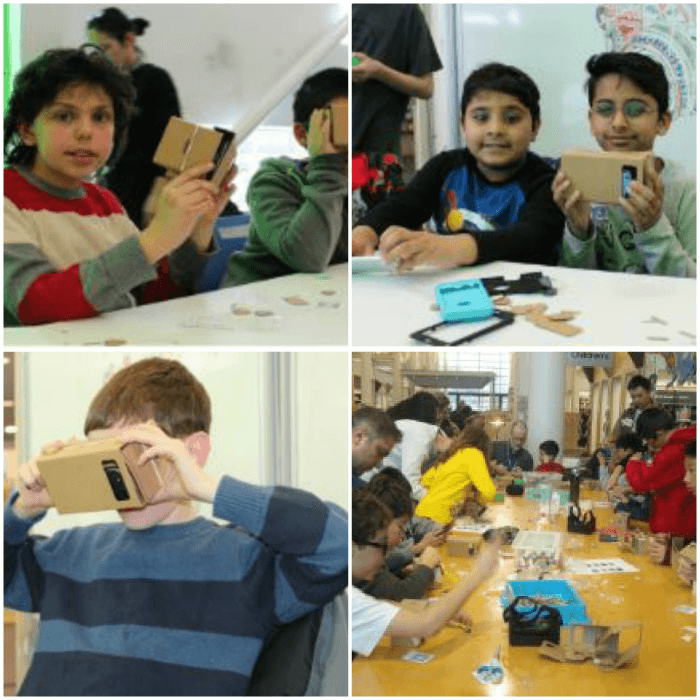 We've since added other programming, including:
Oculus Rift

, a high end, completely immersive VR experience (available at the Civic Centre Resource Library);

Outreach visits where VR is a engaging focal point that promotes our library technology as a whole.
Our programming must evolve, however, beyond the experience. Ideally, a maker or STEAM-based program should be a creation activity. We promote discovery, but our programs are also committed to hands-on learning opportunities that directly engage the technology, application, and equipment. For example, our weekly STEAM Clubs connect children to the world of STEAM through science experiments, access to technologies such as 3D printing, engineering challenges, art projects, and hands-on math games. Our virtual reality programming must make similar connections.
We have also become intrigued by CoSpaces. CoSpaces is an open access virtual reality construction website/application that provides opportunities for students to create and construct in VR. Students apply the thrilling experiences of walking through a dinosaur world or flying past planet Neptune to the construction and creation of their own virtual worlds. The experiential program becomes more comprehensive and transformative.
Video by Richard Anderson

Video by Janice Chuang

To move from experiential to more comprehensive creative programming, last fall VPL presented the program Virtual Reality at the Library II. Building on the foundation of Virtual reality in the library, this sequel focused specifically on VR creation using CoSpaces. Participants had completed the earlier program or own VR glasses and possessed a fundamental understanding of VR. Participants were then taught the basics of animation and design within the virtual space. Our goal was to provide participants with the chance to leave the program with an elevated appreciation of what VR can offer and (hopefully) the desire to continue to create their own VR experiences. 
What comes after phase two? Well, we hope to take this presentation to our local schools. We are also looking for opportunities to create and extend our technology programming beyond VR. We want technology to be flexible, multi-faceted and to cross program lines. VR world building in CoSpaces is coding in CoSpaces. Within the CoSpaces environment, objects can be programmed to move, speak, and interact—all done through the open source basic block programming language CoBlocks.
Libraries looking to augment their coding programs may find that Cospaces adds to existing Scratch, Blockly, other coding programs. CoSpaces untethers the customer from the desktop computer and broadens understanding, of how coding can be used to build worlds.
CoSpaces also offers a fresh approach to 3D design. Large and small libraries have invested in 3D printers and seek programs that complement this technology. The VPL provides adult 3D certification workshops and youth programs like our One Two … 3D! children's program. These programs employ online 3D modeling tools such as Tinkercad and Meshmixer. While these programs provide instruction on creating 3D objects, CoSpaces gives the customer the chance to create a working, interactive 3D universe. This is the evolution of 3D design.  
We would argue that 3D design and coding may become essential skill sets for our younger customers. There exists the need for each generation to plug into a new technology or ability. Consider the small revolution when—not too long ago—instantly available information merged with handheld mobility. Tomorrow, our younger customers will need to understand, navigate, and manipulate the 3D and virtual world. Tools such as CoSpaces are a great way to begin this journey.
---
Photo credit (feature): H. Heyerlein on UnSplash 
Richard Anderson works with children and technology at Vaughan Public Libraries and Janice Chuang is a youth services librarian at Vaughan Public Libraries.