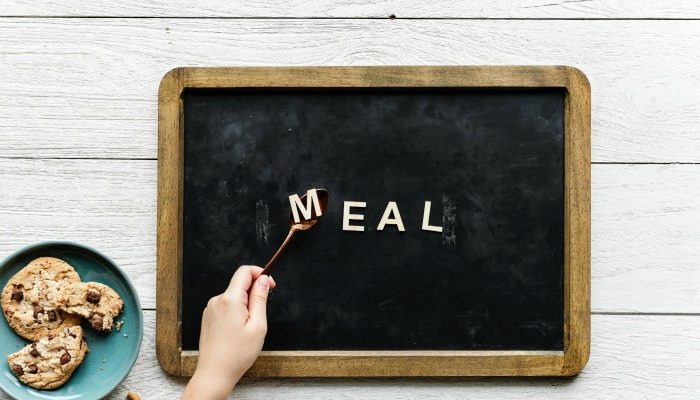 Teen Lunch Bunch: Building trust and community at the Niagara Falls Public Library
It all started in the fall of 2017. Teens from the nearby high school mysteriously started appearing at one of our small  branch library locations over the lunch hour. Week by week, the group grew, and so did the noise and food … and the sidelong looks from adult customers.
Noticing the pattern, branch staff reached out to the Community Development & Programming Department to see if, together, we could better accommodate the teens. The result? A new teen program that is much more than a free lunch—it's about building trusting relationships and a safe community for our young people.
Refuge in a safe space: A need for food
One of our programmers immediately understood that the teens were leaving school to seek refuge in a safe space. We didn't want to lose our teens, so we quickly decided that programming staff would open the community room (unused during this hour) and welcome the students in for lunch.
Our Lunch Bunch has blossomed out of this one small idea. Every day, anywhere from 15-25 teens came (and come) in. As the program began to gain a following, we realized that many of these teens never ate an actual lunch, and were hungry. Always keeping granola bars on hand for any needed after-school snacks, we offered those but realized they were filling the need but were not a healthy long-term solution.
A new partnership: Meeting mental health needs
In addition to needing a lunchtime meal, we also realized that the teens' had other needs. In particular, as they began to trust the programming team, many teens revealed struggles with mental health and LGBTQ related situations.
Our solution has been to partner with the Niagara Falls Community Health Centre (NFCHC) which is newly relocated to a building adjacent to the main branch of our library. The NFCHC offers teen and food programs plus social services such as mental health support. A partnership between the library and the NFHCH just made sense for at least two reasons:

Our program is attracting  teens in an area of the city that the NFCHC did not service.

We are not entirely equipped to support teens across a wide range of needs.  
Staff at the NFHC greeted our inquiry with excitement and enthusiasm. Now, six months later, the Lunch Bunch is in full swing. The NFCHC supplies food and snacks, and also offers an amazing support system for them. As the teens began to feel more comfortable in the library and with staff, they started to open up and now have started accessing social services, resources and support at the NFCHC, including mental health and LGBTQ resources. The increase in their self-esteem and self-confidence, as well as the access to social workers, is a celebrated bonus.

More trust, fewer barriers, greater access & engagement
Building trust has been critical to creating positive relationships with our lunchtime teens. We wanted to build on our initial success so we took a number of key steps to further reduce barriers to trust and foster engagement on the part of our teens.
We asked the teens to make a wish list of what would help make the space and the program their own. And they gave us one:

A Keurig, which we purchased.  

A special day on Fridays. So Fridays now mean hot chocolate and popcorn, which has led to a lot of bonding and relationship building. Who knew that  a simple thing such as making hot chocolate ( the old fashioned way, not with the Keurig) would lead to better relationships? But teens like to tease our staff over their hot chocolate making abilities and apparently we have improved! The hot chocolate is no longer watery or chewy and the popcorn has only been burned twice (okay maybe three times).

Nintendo Switch gaming system: We had purchased a Switch for programming, and when the teens found out, they asked to play.  We now have Gaming Tuesdays, where Mario Kart is the equalizer of all.

We facilitate the process of getting library cards for the lunch teens. This can sometimes be a tricky negotiation, especially when teens have old fines are hanging around, or lack the proper address ID.  While we make sure that all teens can get a card, we know very well that many will not approach staff to work through any barriers. However, the relationships we have built with the lunch teens has removed many of these barriers and, as a result, made both  our physical and virtual collections more accessible for them.

We are working with lunch teens who have filled out applications for volunteer hours and there is a small Teen Advisory Group now planning things like a Teen Lock In.

The relationships that have been created between the lunch teens and the NFCHC staff have helped to identify the needs of teens in our community, and has shaped the programming and services now offered at the health centre. Lunch teens are often attending programs not just at the library, but traveling down to the health centre to access programs as well as resources.

We originally stopped the Lunch Bunch at the end of the school year, but the teens kept coming when summer school started up. Now the library was a refuge and safe space because it had air conditioning while the school did not. Once again, we opened our programming room and on average five to ten students came in everyday. In the future, we plan to keep the Lunch Bunch running until the end of summer school.

Lunch Bunch: A new, supportive community
The teens really started this program and, thanks to them, it's taken on a life of its own and we've been witness to so many positive changes for this special group of patrons. In particular, Lunch Bunch has become a great way for students who never interact with each other in school to have a safe space to meet and talk. Originally, the students stayed in their own groups, but as the year went on we got to watch teens from different backgrounds begin to trust one another, and become friends. We've watched a community develop before our eyes.  
So far, the program has grown via word-of-mouth. Next year, we will include it in our programming schedule and we hope that our numbers get even bigger through in-school promotion. Our goal continues to be, to offer a safe space for teens to eat lunch, take a break from their day and feel welcome to be themselves.  We can't wait to see where the Lunch Bunch takes us next!
Photo credit: Rawpixel on Unsplash
---
Laura Martin is the Manager of Community Development & Programming at the Niagara Falls Public Library. She can be contacted at LMartin [at] nflibrary.ca.