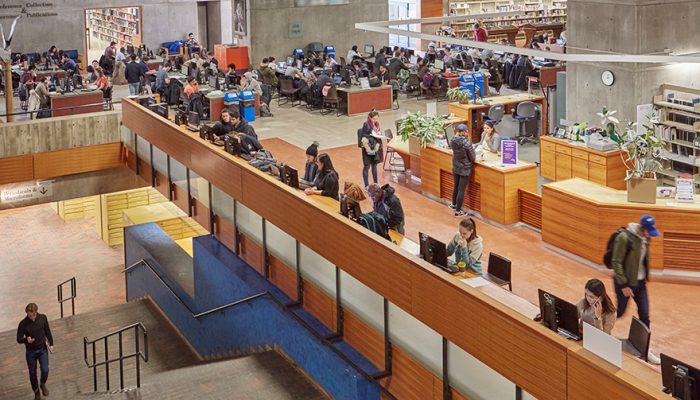 It's a marathon, not a sprint – the organizational renewal process at Western Libraries
In September 2018, as the Western community made its way back to campus, Western Libraries went about its usual fall routines. Books and other resources were ordered, received, and processed. Physical materials made their way to the stacks, digital materials were linked. Information literacy classes were practiced, polished and presented. Librarians met with faculty, perhaps advising on new tri-agency requirements for open access, or sharing a treasure acquired for our archives and special collections. Course reserves were uploaded, musical scores sorted, filed and made ready for distribution, and interlibrary loans prepared for a wave of requests for materials. A new cohort of student library staff, as well as full-time staff, were welcomed and trained. After a few weeks of late-summer quiet, the sounds of students and faculty gathering in libraries was evident for all to hear for those who stepped into any of six campus library locations, where they would find a friendly, helpful staff member ready to assist.
At first glance, everything seemed much the same as the previous September. However, September 2018 was years in the making, marking the first term that Western Libraries began delivering services through a new organizational structure, organized around functions rather than library locations. The new structure is designed to broaden the number of library staff available to support user needs through an integrated services model, with staff working together in new ways to deliver a seamless experience for student learners and faculty teachers and researchers.
For Western Libraries, organizational change began in 2014 with the arrival of Vice-Provost and Chief Librarian, Catherine Steeves. Under Steeves' leadership, Western Libraries embarked on a strategic planning project that included extensive stakeholder engagement, with feedback sought from the Western community on the services and programs desired to support successful students, teaching excellence and recognized research. Armed with a vision for what the library could contribute to the University, relayed in a strategic plan called Engage, Empower, Excel (PDF), the next step in the journey was to identify if Western Libraries was organized to be able to meet campus needs. This resulted in a Workforce Analysis and Planning Initiative that determined organizational change was needed to deliver on the aspirations of the strategic plan. This in turn led to the beginning of the Organizational Renewal Initiative (ORI) in November 2016.
Through the ORI, working groups formed to explore the functional work necessary to meet campus needs. Groups convened on the functional areas: Content Management, Discovery and Access; Teaching and Learning; Research and Scholarly Communication; and User Experience and Community Engagement. Staff from across Western Libraries' six locations, along with staff from foundational functions: Administrative Services, Facilities, and Library Information Technology Services, worked through a process of engagement established by an ORI steering committee. Each working group explored their functional area considering the purpose of the functional team, the skills needed by members of the team to be successful, and a proposed team structure. Because the ORI was not an exercise to increase the staff complement, each working group also explored training that might be needed to develop existing staff to succeed in functional work. Working groups forwarded proposals for each area to the steering committee, who synthesized the proposals into a final report shared with all library staff in January 2017.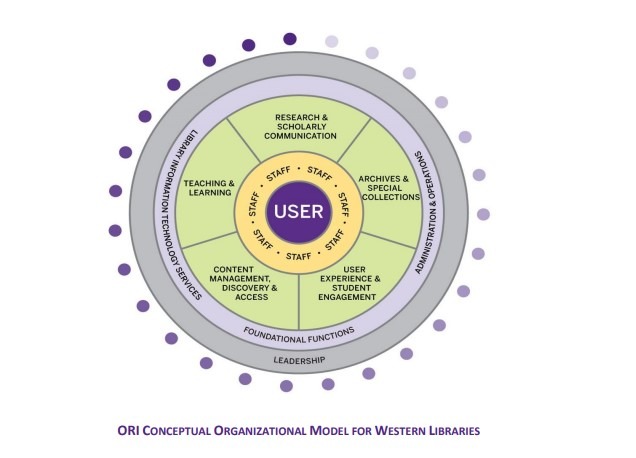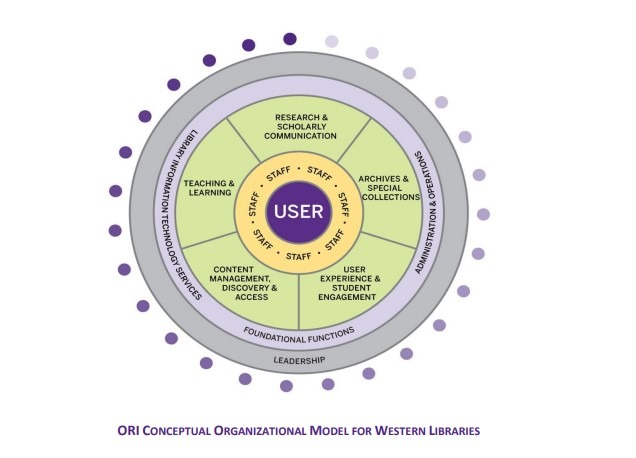 This final report provided the senior leadership team with direction to finalize a new organizational structure, presented to staff in June 2017. In the months that followed, senior leadership would work with staff, staff union groups and associations, and Human Resources to develop processes for assigning staff to new teams. This work began with internal competitions for Heads of Collections and Content Strategies, Teaching and Learning, Research and Scholarly Communication, and User Experience / User Services. With Heads in place, Librarians and Archivists and Library staff were assigned to these and other functional teams. An organizational chart (PDF) prepared as of August 1 outlines the new structure.
This gave the organization a critical period between July and September to begin transitioning work from the old to new structure. A sub-group of the Western Libraries Management Committee began to consider transition issues starting in May, identifying short-term and long-term goals for enabling teams to successfully meet user needs for the fall. Which brings us back to September 2018, and even further ahead to December 2018. With nearly one academic term in the books, teams can begin to pause and reflect on what is working well in the new model, and what isn't, and make changes to improve. For example, one component of the new User Experience and Student Engagement function is a centralized public service team, User Services, that supports all six Western Libraries service points as one group, with staff being assigned two libraries for public service instead of one. This has necessitated the creation of a common schedule that spans close to 30 full-time staff as well as just as many student casual assistants. Coordinating and aligning six scheduling systems for upwards of 60 people across six physical locations into one master schedule has proven complex, and some of the initial scheduling concepts proposed to start the model have been adapted and refined as staff have lived in the new model and provided their feedback.
This is just one element of the Western Libraries organizational model that will require ongoing iteration because ultimately, the new organizational model isn't perfect, nor is it finished. No model ever is, or can be. The model is a starting point for an organization experimenting with new approaches and ideas for user-centred library services that add value to campus learning, teaching and research missions. Years in the making, organizational renewal at Western Libraries is truly a marathon, not a sprint!
Jennifer Robinson is Associate Chief Librarian at Western Libraries, with oversight for User Experience and Student Engagement. She can be reached at jrobins[at]uwo.ca.