When Rudi Denham first started in the world of libraries, she thought she knew how to define a library. Throughout her career, libraries continually challenged and surprised her. Interested in exploring the wider perspective of libraries, in this four-part series Rudi presents a select reading list for library lovers, along the following themes:
Place

People

Community

And last but not least … to be revealed!
---
A library is "a building housing a collection of books available to the public." Isn't it? After thirty-five years, I know a library is much more than that, and during my career, figuring out what is a library has continually surprised me.
Many of us have memories of the LIBRARY AS PLACE: Walking up the stairs to the front door always covered with signs and posters. Inside, book stacks run in all directions, and a massive desk separates the public from staff quietly scurrying around on mysterious tasks.
If, like me, you have an obsession for the library as place, you'll love James Campbell's The Library: A world history. This huge book is filled with spectacular library interiors, including ancient Buddhist collections, and libraries in Japan and Russia. It focuses on library architecture from ancient Mesopotamia, to modern China, and how, during each era, library buildings mirror the history of civilization.
Wellington County Council has demonstrated a commitment to library as place for almost 20 years, with ongoing branch renovation and construction. "Libraries are part of the economic development picture," says Library Director Murray McCabe.

The renovated Carnegie library in Palmerston has gone from a dilapidated building to a thriving community hub. "The county's five Carnegie libraries all point to a sound return on the initial investment having served their rural communities for over 100 years. Few investments today offer the same track record," says McCabe.
When I borrowed the book on interlibrary loan, it travelled through many hands, and staff wanted to hang on to it "for just a little a while" to peruse the stunning photographs by Will Pryce.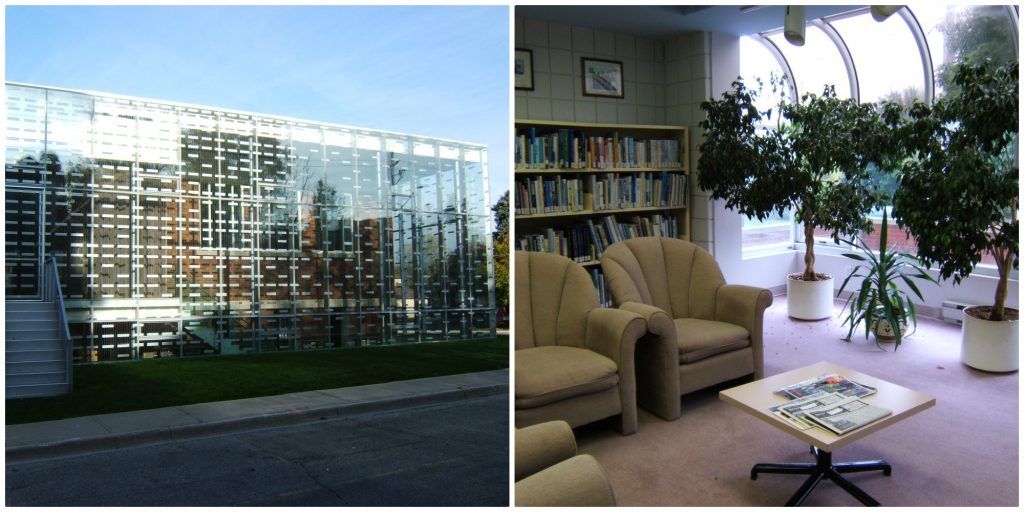 Although less detailed, and less spectacular than Campbell's, Stuart Murray's  The library: An illustrated history contains plenty of fascinating detail and charming illustrations. Murray's focus is less on architecture, and features some illuminated manuscript pages, such as from the Book of Kells. A large portion of the book is devoted to highlighting what the author admits is a personal selection of outstanding, unique, or important libraries from all over the world. There are a few Canadian selections, including Library and Archives Canada, La Bibliothèque Nationale de Québec, and the Toronto Public Library.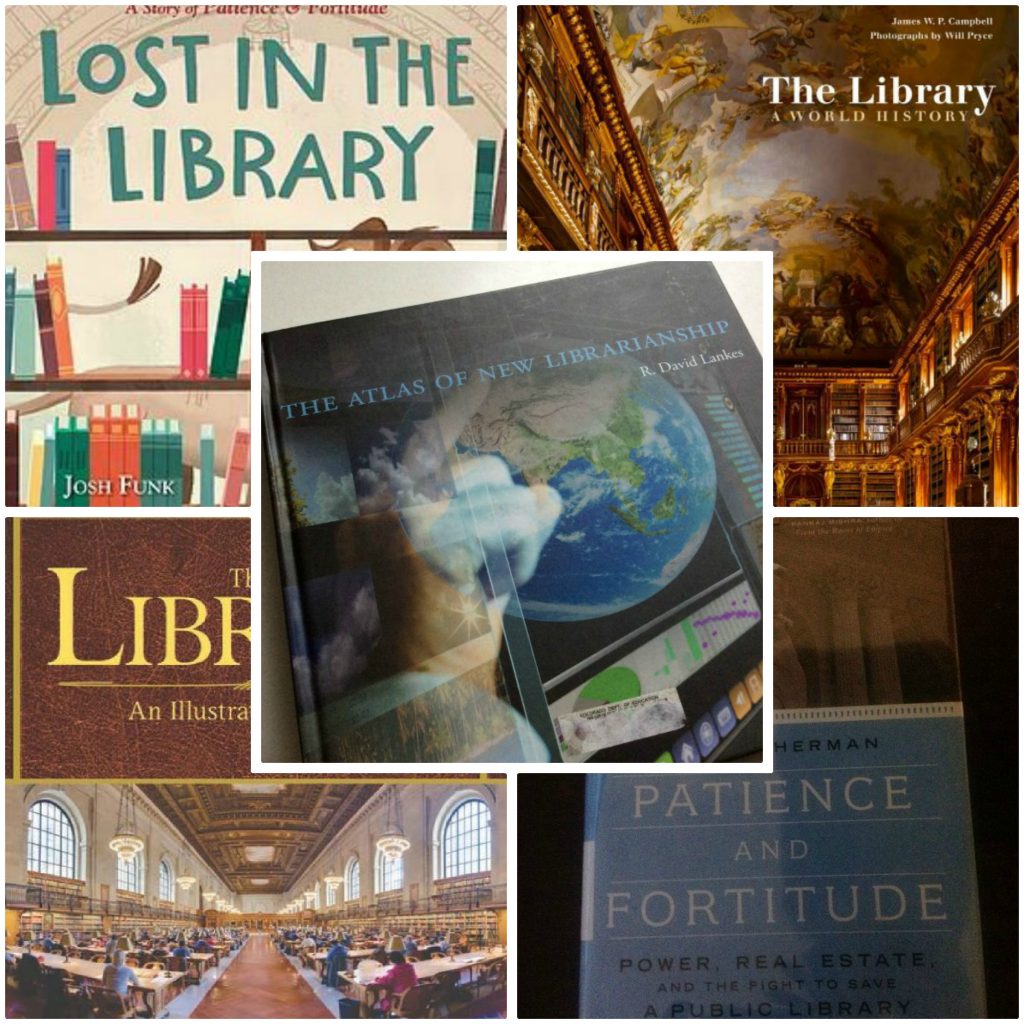 If you've ever gotten lost in a good book, Josh Funk's kid's picture book will resonate.  Lost in the library, a story of Patience and Fortitude is the story of the New York City Public Library's stone lions, Patience and Fortitude. Installed at the entrance in 1915, it is their job it is to greet all visitors. One day, as dawn approaches, Fortitude discovers that Patience hasn't returned to the front gates, and he has to roam through the labyrinth that is the City's central library, to find her immersed in a good book, having lost track of time. Featuring clever rhymes by Funk and artwork by Stevie Lewis, this is a great introduction to the library as place, and the wonders it can reveal.
The same library lions also feature in Scott Sherman's more serious title, Patience and fortitude: Power, real estate and the fight to save a public library, Facing economic pressure, staff at New York City develop a plan to sell off some of the branches, re-imagine its central library, and move much of the collection to a storage facility in New Jersey. Journalist Sherman documents the "Central Library Plan," and the movement that sprang up to save it.
"Library as place is more important than ever," says St. Thomas CEO Heather Robinson.  "People used to come and go, but now they stay." The Library Board, whose vision is We Connect, makes sure there are places to stay, safe spaces for people to meet, interact and learn from each other.

Recently, two local musical groups provided entertainment, while a local brewery and winery offered samples. "I can't believe what the library offers," said one customer.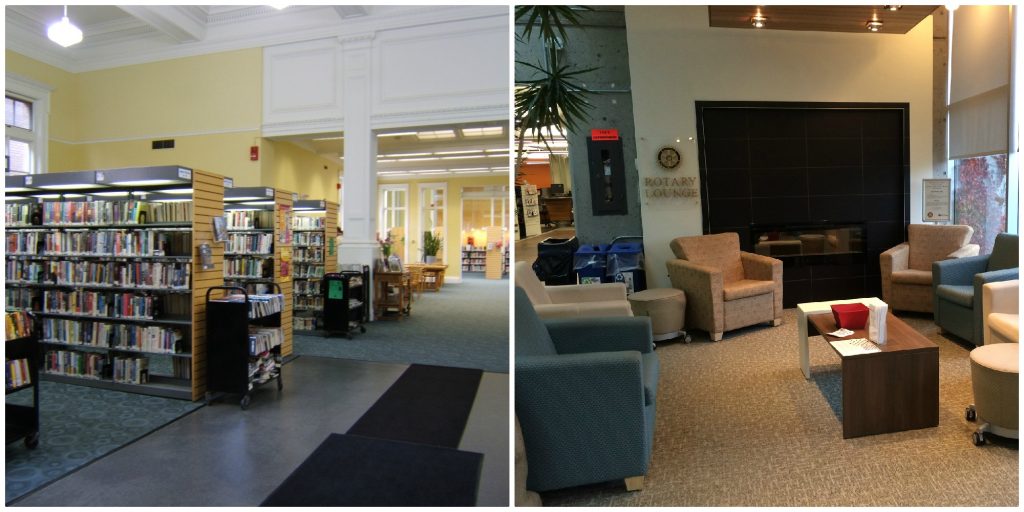 In this age of internet and e-books, the New York Library is not the only library in jeopardy. During this time of challenge, change and opportunity, in the The atlas of new librarianship, David Lankes wants to start a conversation about moving forward. Theoretical and scholarly, it's not an easy read, but nevertheless an important book for information professionals.
Although Lankes' "atlas" refers to the library as place, he talks more about the people who make it happen, bringing us to the concept in our next column: "The library is people!"
Featured titles
Funk, Josh, Lost in the library, a story of Patience and Fortitude, Henry Holt, 2018.     
Campbell, James P., The library: A world history, University of Chicago Press, 2013.
Lankes, R. David, The atlas of new librarianship, MIT Press, Cambridge, Mass, 2011.
Murray, Stuart A. P., The library: An illustrated history, Chicago, ALA/ Skyhorse Publications, 2009.
Sherman, Scott, Patience and fortitude: Power, real estate and the fight to save a public library, New York, Melville House, 2015.
Photo credit (feature): Joshua Coleman on Unsplash
---
Recently retired after 35 years as a professional librarian, Rudi Denham is a freelance writer with multiple articles published in professional journals such as Feliciter, Access OLA and Open Shelf, as well as other magazines, such as The Fifth Column.