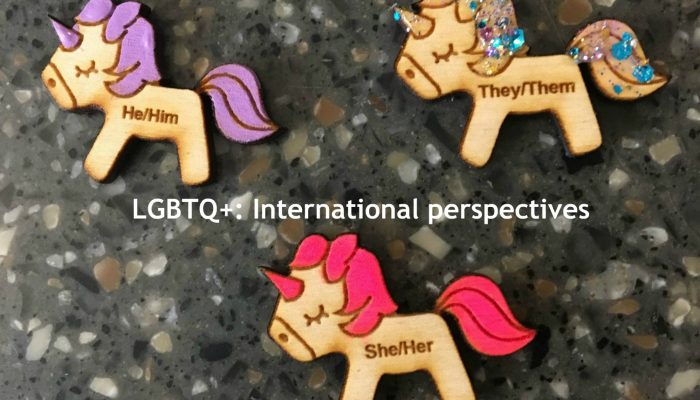 In the third article in this limited series of conversations, Amanda Wilk and John Vincent look back at 2018—both noting an international issue that has had an impact on LGBTQ+ people, plus an event closer to home that is having a similar effect, and, finally, offering some comments on times when they've felt seen and heard and on how libraries can translate that positive recognition into helping make LGBTQ+ people feel welcome.
Throughout the series, John and Amanda use the acronym LGBTQ+ to refer to lesbian, gay, bisexual, transgender, queer/questioning and other identities within the communities. They would like to acknowledge that other acronyms are also used and that sexual and gender expressions are diverse and are impossible to represent within the confines of five letters. For more information and terminology related to LGBTQ+ identities, you'll find that the 519's Glossary of Terms is a valuable resource.
Amanda and John would love to engage with you and welcome your comments and feedback below.
John Vincent (J.V.)
As we write, a large number of international events is having an impact on LGBTQ+ people.
Being part of Europe (which I consider the U.K. to be, whatever the outcome of the current Brexit mess!), I'll choose the threat to LGBTQ+ rights and to democracy posed by what ILGA-Europe (the European Region of the International Lesbian, Gay, Bisexual, Trans and Intersex Association [LGBTI]) and their co-signatories describe in their paper Democracy under attack: a call for action, as:
The rise of hate, divisive, and socially and environmentally destructive political forces–including in many EU countries – are putting our democracies at risk. They are undermining democratic institutions and the rule of law by fomenting inequality and discrimination and by seeking to muzzle independent media, non-governmental organisations, trade unions, the judiciary, women, and marginalised groups, including ethnic and religious minorities, LGBTI people and people with disabilities. [p. 1]
In their 2018 annual human rights review, ILGA-Europe say:
Looking at the situation as it stands in the spring of 2018, the most honest statement we can make is that the work on LGBTI equality is nowhere near done. In fact, from ILGA-Europe's vantage point, there are several signs around us that many of the recent wins are fragile. It's incredibly clear that the risk of having hard-won equality milestones rolled back is all too real.
'Rollback' is indeed very real from the perspective of LGBTI communities in our region, with the most visceral example being the resurgence of state-led persecution targeting LGBTI people. From the horrific cases of torture in secret detention camps in Chechnya to the wave of arbitrary arrests and intimidation by police forces in Azerbaijan, 2017 has shown how far some states are willing to go to silence LGBTI communities. Sadly, we have all witnessed the persisting reality that, in Europe and Central Asia today, agents of the state still deliberately target people they perceive to be LGBTI […]
Of course, 'rollback' also refers to the general atmosphere that human right advocates are working in. Populism, anti-democratic opinions and far-right extremism are not just emerging trends or isolated incidents anymore. They are ever-present features in the lives of many LGBTI activists. Democratic backsliding is here and is very real. This claustrophobic working environment is being felt by activists across the region – Poland, Turkey and Hungary are just a few examples that spring to mind immediately. [p. 12]
This situation is grim—and feels incredibly close to home. What have you identified as your key international event?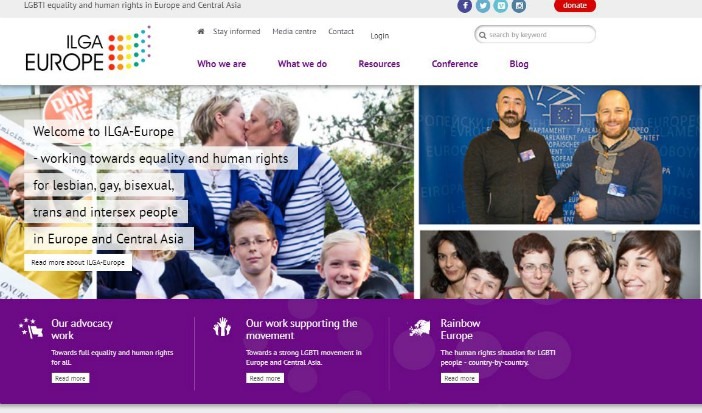 Amanda Wilk (A.W.)
Unfortunately, in 2018, there were many international events that indicated and demonstrated a rise in hatred toward LGBTQ+ people.
Quite close to home, President Trump's administration enacted what felt, at times, like a never-ending series of policies and statements that harm or that make it easier for people to inflict harm on LGBTQ+ people. I have pulled only a few examples of some of what was sanctioned by the United States governments (state and federal)  in 2018:
The federal Department of Education enacted a policy refusing to investigate or to defend transgender students banned from school restrooms and locker rooms

President Trump announced a revamped transgender ban on both existing and future military service members

The governors of Oklahoma and Kansas signed laws allowing faith-based adoption organizations the right to discriminate against LGBTQ+ couples and others (such as interfaith or unmarried couples) looking to foster or to adopt children

The federal government rolled back protection for incarcerated transgender people. For example, they no longer have the right to use the facility that matches their gender identity

The State Department announced a policy that the unmarried same-sex partners of United Nations employees will no longer be granted visas to stay in the United States

The federal Department of Health and Human Services released a memo to narrow the legal definition of gender, forcing an estimated 1.4 million intersex, non-binary and transgender Americans to identify themselves according to their sex assigned at birth.
(For a more comprehensive list, see The Legal Intelligence.)
Slightly further afield, though less reported on, the election of Jair Bolsonaro in Brazil is another news story of note and of concern. A self-described homophobe, who has been quoted on multiple occasions sharing harmful and violent views on LGBTQ+ people, Bolsonaro removed LGBTQ+ concerns from the list of issues handled by Brazil's human rights ministry. For more information on Bolsonaro and his politics, see Autostraddle.
What more local event have you chosen to discuss?
J.V.
For me, I have to say that the close-to-home events are all around Brexit. Whatever the rights and the wrongs of the Remain and Leave arguments are, the result of the referendum—and the subsequent 2+ years of bitter wrangling—has left the U.K. divided, with two major impacts.
Firstly, almost no other social policy issue has achieved the same level of prominence, be it the dreadful levels of knife crime and murder (Knife crime offences rise to highest level since 2010) or the enormous growth in poverty and the spread of food banks to help people cope (This is the shocking reality of foodbanks in 2018).
Secondly, the Remain and Leave voices are shouting more and more loudly, often repeating the same "myths"—that the U.K. will take back control of its borders, that Leave will mean an end to immigration, that the U.K. is flooded with "illegal" immigrants arriving in the back of lorries.
All of these issues mean that the day-to-day lives of many U.K. citizens are ignored—or, worse, criticized viciously in the media and on social media—and, in 2017–2018, the spotlight focused on trans and non-binary people, for example, with a small number of anti-trans protesters appearing at the front of the Pride Parade and with negative mainstream press coverage.
What's affected you closer to home?
A.W.
Closer to home, I think one of the biggest changes in 2018 was the election of Doug Ford as the premier of Ontario, resulting in the Progressive Conservatives replacing the Liberal government.
One of Ford's first actions as premier was to repeal sexual education curriculum that was put in place in 2015 and to develop a new curriculum. In the interim, a modified curriculum from 1998 (and the same curriculum that I was taught in elementary school) was reinstated.
In a review of the differences between the 2015 and the interim curriculum, the Globe and Mail notes that in the interim curriculum:
Students learn about similarities and differences between themselves and others, such as body size and gender, in Grade 2. This version does mention gender identity in its introduction but only to flag it as a potentially challenging topic to teach. The introduction also states that students of all gender identities should feel comfortable and free from harassment. This version does not specifically mention that the topic of gender identity be taught in any grades. The word "transgender" is mentioned once, in the glossary, using the non-preferred term "transgendered."
With these changes, the importance of the library as a resource where people can safely access accurate information cannot be understated.
J.V.
Despite the international and the national gloom, there have been times in 2018 when I have definitely felt heard! Probably the most exciting was the final publication (after some months of discussion) of my report Libraries welcome everyone to Arts Council England. Despite the title (which was not what I'd have chosen), the report has highlighted the amazing range of equality and diversity work that public libraries are involved in including provision for LGBTQ+ people.
I have also been asked to deliver a number of sessions in a secondary school as part of its U.K. LGBT History Month celebrations in February, and as a gay man, I'll be talking to students about supporting LGBTQ+ students (and staff members) and about what each student can do to make a difference. Provided these sessions work, my voice really will be heard!!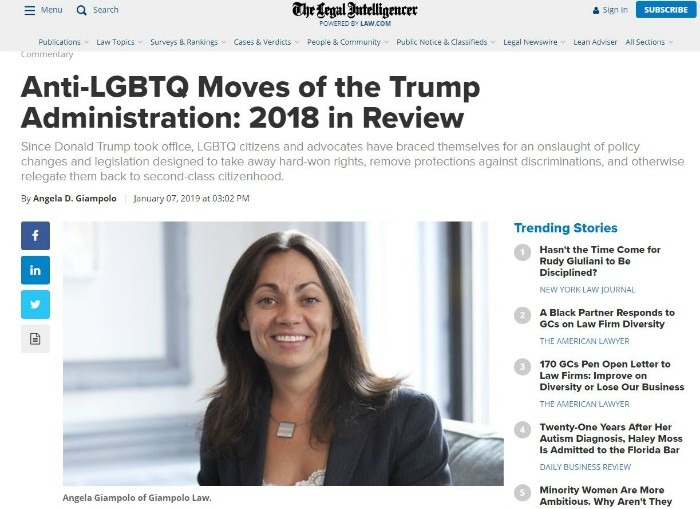 A.W.
I want to end by highlighting that sometimes the smallest things can make you feel the most seen. I identify as a cisgender person and use she/her pronouns. Often, because of my gender expression, I am not inherently read as being queer. My wife and some of our closest friends are gender non-conforming people. When I am in public (with or without them), one of the things that makes me feel the most seen and the safest is when people use the word "folks," or they/them pronouns to refer to me and/or the people I am with. It is such a small thing, but it truly does make me feel more comfortable and seen. It demonstrates to me a deeper commitment by an organization (or an individual) to be inclusive of all people and makes me feel that if people are inclusive in how they refer to me, their belief in inclusivity likely extends beyond this single instance.
---
John Vincent coordinates "The Network – tackling social exclusion," a U.K.-based network of cultural and heritage organizations that work towards social justice.
Amanda Wilk is a manager at the Country Hills Community Library, Kitchener Public Library. She can be reached at amanda.wilk@kpl.org.