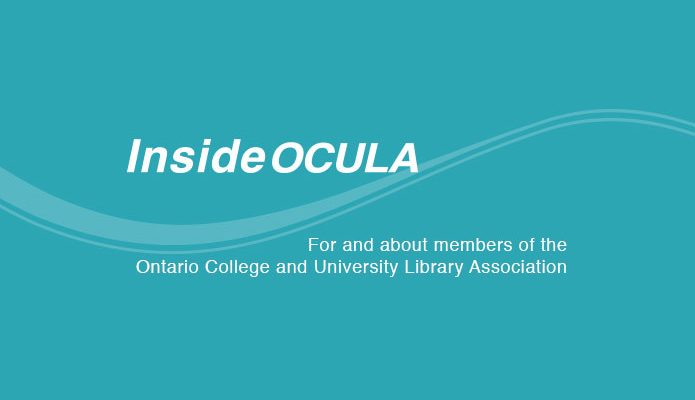 Calling all editors: InsideOCULA
The Ontario College & University Library Association (OCULA) is accepting applications for a volunteer Editor for InsideOCULA, the official publication of OCULA.
Deadline: May 13, 2019
About InsideOCULA
InsideOCULA is the official publication of OCULA. The newsletter is a forum to exchange ideas, discuss issues, and share news of interest to Ontario's academic library sector, and publishes five times a year: February, April, July, September, and November. For more information about InsideOCULA, please visit the newsletter page on the OLA website.
About the position
Editors of InsideOCULA are responsible for:
maintaining contacts in Ontario academic libraries and pitching relevant stories for publication;

editing and publishing stories on Open Shelf's WordPress platform;

promoting InsideOCULA through social media and other channels; and
serving as ex-officio members of OCULA Council.
The workload varies according to the publication schedule, but generally requires approximately 12 hours per month. This is a remote position, as all editorial duties are completed online.
Read more about the position and the application process here.
Length of commitment
This position will begin in May 2019, and carries a 4-year commitment: two years as Editor and two years as Editor-in-Chief.
Application procedure
Interested candidates should submit applications to insideocula@gmail.com by May 13, 2019.
Each application should include a:
Cover letter, indicating interest and highlighting relevant skills, knowledge and experience;

Current curriculum vitae; and

Portfolio, with at least three samples of writing or editorial work.
While we thank all applicants for their time, only those candidates selected for an interview will be contacted.
In order to be considered, candidates must also be members in good standing of OCULA.
Inclusivity and accessibility
InsideOCULA strives to be an equitable and inclusive community, both in the stories we tell and the people who tell them. We are strongly committed to diversity and welcome applications from racialized persons, persons of colour, women, Indigenous persons, persons with disabilities, members of the LGBTQ+ community, and others who will contribute to a diverse and representative editorial team.
InsideOCULA is also strongly committed to the principles of the Accessibility for Ontarians with Disabilities Act (AODA), and we strive for equity in our recruitment and selection processes. We encourage candidates with disabilities, or who require any additional accommodations, to contact us directly to discuss their needs further.
Further questions about the recruitment and selection process, including questions about our commitments to diversity, inclusion and accessibility, should be directed to insideocula@gmail.com.