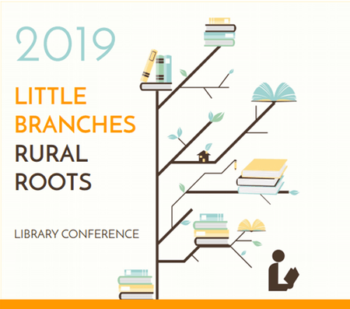 The steering committee for the Little Branches, Rural Roots conference, to be held on October 4th and 5th in Arnprior, ON, is shocked and amazed by the support they have already received. Thanks to all of the interest in this inaugural event representing small and rural public libraries, there will be  a plethora of incredible presenters, awesome give-aways and the potential for attendees to walk away with a wealth of knowledge and new contacts. All of this while managing to keep costs low for those without big conference and training budgets.
There will be two plenaries. The first is an author panel featuring Luke Murphy, Amanda West Lewis and Kerry-Lyn Sparrow where the discussion will focus on how libraries can assist in the creative process. The second is an important conversation about mental health and stigma presented by Shelley McCaffrey of Corporate Well Solutions.
Other sessions include starting a tween knitting program, learning how to podcast, best practices in cataloguing, how to effectively manage performance for engagement, accountability and productivity, finding free (or nearly free) online resources, and so much more!
Then there are all of the fun networking opportunities! From haunted walks and trivia for librarians to wine-tasting and a sundae bar. Did I mention the closing concert is being performed by Sean McCann of Great Big Sea fame?!
Registration closes September 20th, so it's not too late to register! We would love to see you there!
---
Kelly Thompson is an organizer for the Little Branches, Rural Roots conference and the CEO/Chief Librarian at the Renfrew Public Library.