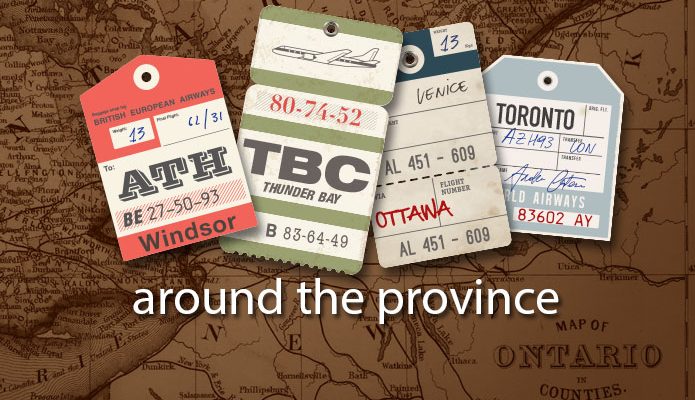 Connecting students to seniors: Channelling exam stress into creative card-making at U of T Libraries
By Sabrina Macklai, Kaitlin Fuller, and Vincci Lui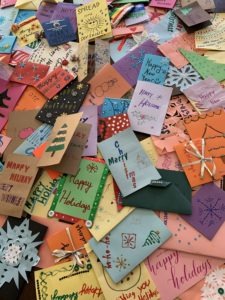 With exams around the corner, the holidays are usually the last thing on the minds of stressed-out students—but when we called on University of Toronto students to share season's greetings with their community, something magical transpired. In December 2019, at the suggestion of Sabrina Macklai—a U of T iSchool student intern working at the Gerstein Science Information Centre (GSIC), part of the U of T library system—we asked students to send warm wishes to strangers by designing holiday-themed cards. Card-making stations were set up in two locations, the GSIC and Robarts Library, and students could keep their cards for themselves or drop them into a makeshift mailbox for delivery to a local senior residence. The stations were piloted as part of the 'Unstudy Spot', an exam period initiative run by the U of T Libraries which helps students de-stress through activities such as colouring, origami, and puzzles.
Over a two-week period, students created more than 140 visually stunning cards containing thoughtful well-wishes for the new year. The response from students and faculty was overwhelmingly positive, and the initiative also provided library staff with an opportunity to get involved and collaborate on the promotion and maintenance of the station.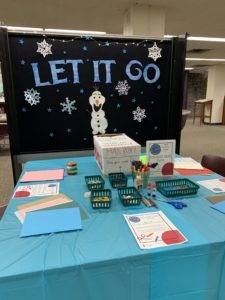 We chose our partner senior residence based on its proximity to campus and their interest in the initiative. Their recreation director, who worked with us, supported this initiative because she said they have several residents who do not typically do not receive many cards or visitors over the holidays.
The gratitude from both staff at the retirement home and our students was well worth the work required to make this initiative a success. Some of the necessary tasks included background planning; securing funding for materials; locating a local senior residence as a partner; creating signage to advertise the initiative and provide instructions, including etiquette tips such as refraining from religious messages; daily maintenance; and collecting, vetting, and delivering the cards to the senior residence.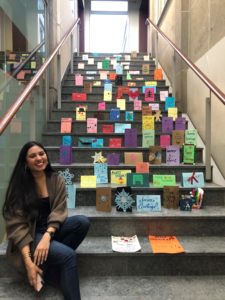 Running initiatives like this one requires different funding and other resources depending on the scope and approach taken. For example, GSIC spent approximately $50 on card and construction paper, markers, glue sticks, scissors, glitter, stickers, and other festive decorating materials. Meanwhile, Robarts Library took a different approach, keeping the cost down by asking staff to donate old holiday wrapping paper or cards that could be re-used to assemble new cards.
We are very proud of our students' spirit of generosity and the creativity that this initiative inspired. To see more of our students' creative cards, visit the Unstudy highlight on our Instagram.
—
Sabrina Macklai holds a Toronto Academic Libraries Internship at the Gerstein Science Information Centre and is in her first year at the University of Toronto's iSchool. You can contact Sabrina at sabrina.macklai [at] mail.utoronto.ca.
Kaitlin Fuller is an Education and Liaison Librarian for the MD Program and the Institute of Medical Science at the University of Toronto. You can contact Kaitlin at kaitlin.fuller [at] utoronto.ca.
Vincci Lui is a Faculty Liaison and Instruction Librarian for Public Health at the Gerstein Science Information Centre at the University of Toronto. You can contact Vincci at vincci.lui [at] utoronto.ca.