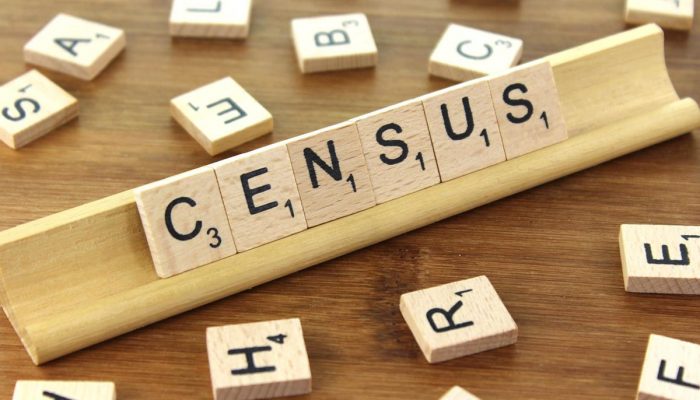 Who is the Canadian academic librarian? Results from the first CAPAL census
Canada's academic librarians are relatively young, enjoy stable employment and are not racially diverse: these findings are among the highlights of the first census conducted by the Canadian Association of Professional Academic Librarians.
More user exploration of the data is encouraged by the association (CAPAL), which conducted a census of Canadian academic librarians between June and September 2016. CAPAL intends to build a comprehensive demographic picture of the profession by collecting data about librarians working in college and university libraries in Canada and to share that data for research, policy development, advocacy and education purposes. The census survey was composed of 26 socio-demographic questions including inquiries about respondents' age, gender identity, cultural background, marital status, level of education, hours of work, academic rank, job title and area of professional expertise, to name a few. All questions were optional and questions deemed sensitive in nature included a "Prefer not to answer" option.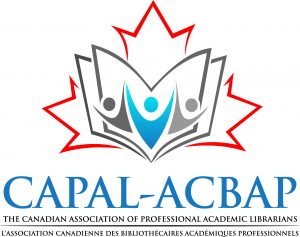 The survey was emailed to 1,730 academic librarians working in member institutions of Universities Canada and of Colleges and Institutes Canada. Librarians' contact information was compiled by reviewing the websites of member institutions. The census was also available on the CAPAL website, and librarians were encouraged to alert their colleagues to this survey to maximize distribution. A total of 904 responses were received, for a response rate of 52%. A User Guide and Results Summary report was compiled and shared with the 1,730 academic librarians in December 2016.  The report presents the aggregate findings for each question with only preliminary descriptive patterns identified, as the fundamental goal of the census initiative was to openly share the data with interested researchers. We are now working toward depositing anonymized microdata files from the census initiative into the Dataverse repository hosted by the University of Alberta. It is hoped and anticipated that researchers and interested librarians will analyze, cross-tabulate and cross-reference the data to generate new insights and findings relevant to the profession and the academic librarian. This analysis can be done with data internal to the census, but the census data can also be compared with relevant external data sets.
The survey software, FluidSurveys, includes some cross-tabulation[1] and bracketing[2] functionality, which allows us to present a few preliminary findings here.  For instance, the CAPAL census appears to confirm that acad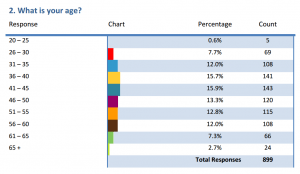 emic librarianship in Canada is a young and thriving profession, with 52% of librarians being 45 years of age or younger. The trend of the profession getting younger was identified by the 8Rs In 2003, 29% of academic librarians were younger than 45 years of age, but only a decade later, by 2013, that percentage had increased to 43% (Delong, Sonrensen, & Williamson, 2015, p. 16).
Not only are we getting younger, we also have professional stability: 88% of respondents indicated they have tenured, permanent or continuing appointments. This compares with 67% of university teachers who have permanent full time appointments, according to the 2014-2015 CAUT Almanac of Post-Secondary Education in Canada. 

One of the goals of the census initiative was to gauge the level of diversity within the profession. Two demographic characteristics are of special note in this regard, sexual orientation and ethnic/racial self-identification. The census indicates that 8.4% of Canadian academic librarians consider themselves bisexual, gay, lesbian or two spirit, which may be considered to more or less mirror the general population. On ethnicity, however, while 4.3% of the Canadian population identified as aboriginal people in the 2011 National Household Survey, in the CAPAL census only 2.2% of respondents consider themselves to be of indigenous descent.  According to Statistics Canada, 19.1% of the Canadian population identify themselves as visible minorities, but in the CAPAL census, only 9.1% of respondents identify as members of visible minorities. These rough comparisons to the general population point to the conclusion that the profession could do a better job of attracting and recruiting members of equity-seeking groups.
The traditional pillars of academic librarianship continue to dominate professional practice with respondents identifying reference services (65%), instruction and information literacy (59%), liaison subject expertise (55%), and acquisitions and collection development (46%) as their top areas of professional expertise.
Census data indicate that 79% of academic librarians are expected to work between 31 and 40 hours per week, while a sizable portion, 12%, do not have specified hours. However, 86% of respondents report working more than their regular hours. Further research into stress and work life balance issues among academic librarians could be fruitful, in particular when librarians' family situation is considered: 42% of respondents report having dependents living with them, and 68.5% are married, living with a partner, or in a common law relationship.
These are just a few of the over 23,000 data points in the CAPAL census.  It is exciting to contemplate the possible research questions that could be explored using this data set, and CAPAL strongly encourages the librarian community to consider how it could be of use to the profession.  As a starting point, the Census project team (Alvin Schrader, Amy Kaufman and Eva Revitt) will provide a number of cross-tabulated tables that individuals can use and build upon within the context of their own research. A long-term goal of CAPAL and the census initiative is the creation of longitudinal data to measure trends and shifts within the profession.
[1] Cross tabulation is the comparison of relationships between two variables.
[2] Bracketing allows for categories to be collapsed into broader groupings.
Eva Revitt is a Subject Specialist Librarian at MacEwan University supporting the School of Business and Communication Studies program. She is also the Chair of the CAPAL Advocacy Committee. Eva can be reached at revitte[at]macewan.ca
Dr Alvin M. Schrader is emeritus professor in the School of Library and Information Studies at the University of Alberta.
Amy Kaufman is the head law librarian at Queen's University.  
[1] Cross tabulation is the comparison of relationships between two variables.
[2] Bracketing allows for categories to be collapsed into broader groupings.