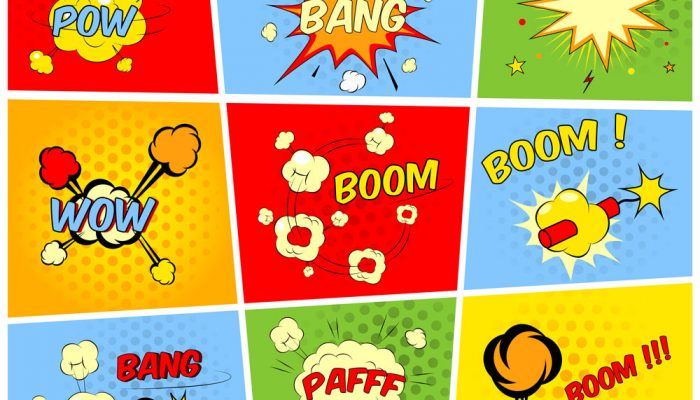 Graphic Novels for Adults
Think graphic novels are only written for kids and teenagers? Think again! Marvel's The Avengers, made $1.51 billion worldwide. 16.1 million viewers tuned into the season premiere of The Walking Dead, a television show based on the graphic novel series by Robert Kirkman. The Toronto Comic Arts Festival (presented by The Beguiling Books & Art at the Toronto Reference Library) attracted 18,000 attendees in 2013, who were certainly not all children! The numbers speak for themselves: comics and graphic novels are very popular with all ages.
Public libraries, large and small, can benefit from sharing graphic novels for adults with their patrons.
In late 2013, a library patron asked us at The County of Prince Edward Public Library (a rural library system with 6 branches and 9000 cardholders) if we had any graphic novels for adults.  Other than some classics, including Maus and Persepolis, we did not have much to offer. The few graphic novels we did have were scattered through fiction and nonfiction without an easy way to find them. Always responsive to patron suggestions, CEO Barbara Sweet recognized this as a gap, so she agreed to to build a collection on an experimental basis to be further developed if circulation numbers warranted.
In addition, I sent out a request on Facebook (both to my friends and on our library's Facebook page) asking for "must have" suggestions. A few friends and library supporters came forward not only to make recommendations but also to donate their personal collections to get the project started.
Before we knew it we had received donations of over 500 titles – everything from superhero series to independent titles and, yes, The Walking Dead, too.
The collection is now made up of popular series, memoirs, historic collections (Best Comics of  '42, for example), French language titles, and more.
With such a wealth of donations, the question remained: how to catalogue them? We discussed collection organization at length, although we were certain we didn't want the collection in the 741s, we weren't sure where to put them. Fiction would work for most, but not for the memoirs and other graphic nonfiction we knew we wanted to include in the collection. In addition, should the spine label include the author's name or the illustrator's?  In graphic novels each person is just as important. Since long-running series are often written by a variety of people over the years we wanted it to be easy to find the big names like Superman or Batman. We decided to organize by series – and if it is not in a series, then by title. You look under "S" in the Superman series, regardless of author or illustrator and under "M" for Maus. It's not a perfect system but we have found that it works for us.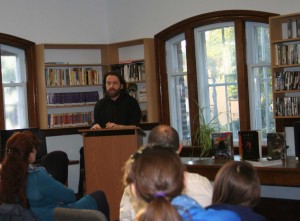 Word of mouth helped to get the collection going. Those who had donated told people that they could now find graphic novels at the library and, with the aid of some bright signage, regular library users could find the new collection, too. Once we invited Montreal-based artist and creator, Salgood Sam, to speak at the launch celebration, the numbers soared. He has a resume as diverse as our collection – he's worked with both DC and Marvel and now works mostly independently. His presentation attracted an audience of both teens and adults – graphic novel lovers and those curious about the format – and had the intended effect of getting the community talking about graphic novels (he even donated from his personal collection).
Adults now in their 20s who had grown up borrowing from our kids and teen graphic novel collections were happy to see that we had expanded our holdings. Desk staff reported seeing an influx of adults, particularly men, coming in specifically to browse the collection and even becoming new library members.
Within the first three months we had over 1000 circulations which continues to grow as we add more titles.
The Adult Graphic Novel is an important and popular format that I would encourage any library, that does not yet have a graphic novel collection, to start now. Stuck on where to begin? The Beguiling has a great program to help you get started, or enlist the help of a local comic book store. Poll your patrons – you may be surprised how many people in your community would be honoured to share their knowledge. It's not just Sheldon, Leonard, Howard and Raj who read and love graphic novels, many of our patrons do too!
Liz Zylstra is the Collection Co-ordinator at the County of Prince Edward Public Library. She is currently taking the APLL program through SOLS and a member of the OPLA Child & Youth Committee. Her e-mail address is liz [at] peclibrary.org.