In Memory of Sharron Smith: Public Libraries Champion
By: Bessie Sullivan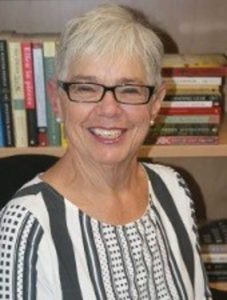 The library world lost a giant in January of 2022.  Sharron Smith was a pioneer in the fields of reading, developing reader-centered collections, and the fine art of Readers' Advisory. Sharron's career began at Guelph Public Library; she then moved on to Kitchener Public Library (KPL) where she worked in collections and readers advisory until her retirement in 2017.  She also lectured at the University of Western Ontario, where she taught the Readers' Advisory course to graduate library students. Sharron was incredibly active with OLA and was instrumental in starting and chairing both the Evergreen Committee, which awarded its first winner in 2005, and the Reader's Advisory Committee, which held its first RA in a Day Conference in 2006. For many years, she was the organizer of OLA workshops at Book Expo Canada until it ended in 2009.
After retiring from KPL in 2017, Sharron continued to teach at Western. That was not enough library contact because she also sat on the board of the Library Services Centre from 2016-2020, serving as its chair from 2018-2020.
In addition, Sharron was a much sought-after consultant and would travel around Ontario and beyond, conducting workshops about Readers' Advisory and marketing collections.
For several years, Sharron moderated the discussion at the Literary Brunch, part of the Wild Writers Literary Festival in Kitchener and Waterloo. This event attracted prominent Canadian writers, including Michael Redhill and Helen Humphreys. Sharron was ultra-prepared for any event she was called upon to lead; she had always read the books to be discussed and put writers at ease with her thought-provoking questions.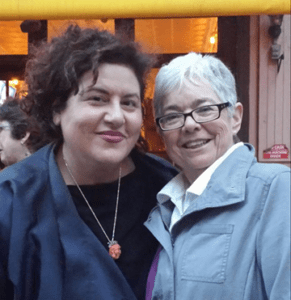 Sharron Smith with Adriana Trigiani in New York City 2014
Sharron was a great champion for Canadian writers, but she was also interested in writers from all over the world. On a trip to New York City with her daughter, she was invited by Adriana Trigiani's publisher to join the author, exploring locations that had provided inspiration for her books. Sharron's daughter Heather describes that afternoon.
"There was probably about 20 of us that were on tour, and it finished up with Adriana taking us to this amazing pizza parlour. We all agreed it was the best pizza we had ever had!"  
It should come as no surprise that Sharron was the recipient of awards during her illustrious career. In 2008, she was presented the W.J. Robertson Medallion for Public Librarian of the Year in Ontario. In 2014, she was awarded the OPLA's Leadership in Adult Reader's Advisory Award in recognition of her many accomplishments.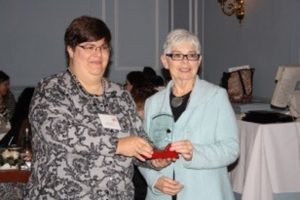 Diana Krawczyk, Chair OPLA RA Committee, presented the Ontario Public Library Association Leadership in Adult Readers' Advisory to Sharron Smith on November 7, 2014.
Because Sharron built relationships with everyone, she could create magic when it came to book suppliers.  Due to her diligence, Library Bound sponsors the OLA's RA award and has a significant role at the RA in a Day Annual Conference. Sharron helped establish the Region of Waterloo's One Book, One Community and in its third year, she even convinced the committee to choose a science fiction book.
She was friends with all the big names in Readers' Advisory. If you spent time with her, you might even get invited to a dinner with Nancy Pearl – yes, that Nancy Pearl. This is what Rachel Van Riel, the founder of Opening the Book, had to say:
"Sharron was a great mover in libraries in Ontario. I only met her a few times, but I knew her influence and even more of her spirit. She was always open to new things that would help libraries." 
From the first moment I saw Sharron at Super Conference 2002, I knew that she was someone who could help me move forward in my career. Little did I know that she would also become a close friend. As she told the story, I was a very green, fledgling librarian when I went to her session, I was so taken with her and her material that I marched up after and pitched next year's session idea on the spot.  That was the beginning of many years of sessions, conferences, workshops, speaking engagements, and teaching together. It was also the beginning of a friendship that spanned two decades.
For several years, I spoke in Sharron's class about promoting collections through media. Because of that experience, and with Sharron's encouragement, I also became a lecturer at Western for their Public Libraries Course.
Sharron shaped my library career and countless others in more ways than I could ever list. She influenced her students, colleagues, and people she worked with at the provincial level. She was also a deeply caring person who went out of her way to maintain friendships.  When my son was playing minor league hockey, we made the trek from Haliburton to Tavistock for a game; Sharron insisted on meeting me there for breakfast.
I saw her for the last time in October of 2021 when she was very ill.  As she drifted in and out of sleep through the day, I sat with her and knitted a sock.  In her awake moments, she told me that her affairs were in order.  I think we both knew it would be our last visit. When I told her daughter Heather about our day, she said it was fitting because her mom had always been fond of socks.
Family was tremendously important to Sharron. I had met her husband, Al, several times but never her daughter.  When I finally did meet Heather at her mom's celebration of life, I felt like I already knew her since I had heard so many stories through the years.  Her grandson, daughter, son-in-law, and husband were the most important things in her life. Books, as much as she loved them, were a distant second.
Amy Poehler said,
Find a group of people who challenge and inspire you; spend much time with them, and it will change your life.
Sharron certainly did all of that for me, and I am eternally grateful.