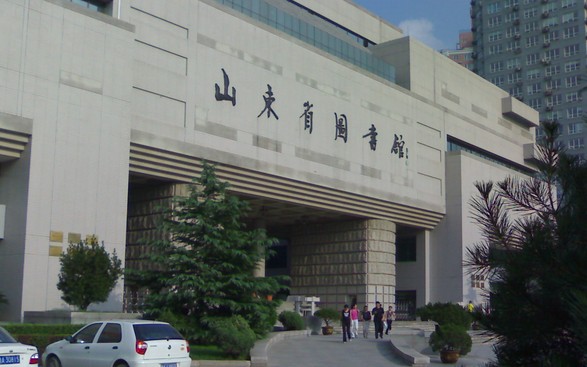 London and Jinan: A Visiting Professor Compares Jinan in China's Public Library System With That of Middlesex County
Professor Guodong Zheng was a visiting professor at the University or Western Ontario in 2013. Through a series of fortuitous events, he joined a tour of public libraries in Middlesex County hosted by the local Library Board. At the request of Lynn Humfress-Trute, OLBA Vice-President/President-Elect, upon returning to China, the professor wrote this article about libraries in Jinan comparing them to those he saw on this tour and during his time in Canada.
My City
The City of Jinan is the capital of Shandong Province, which is located on the east coast of China. There are more than 4.33 million residents, the and city is divided into six districts, or boroughs, each hosting more people than Canada's City of London.
The public libraries in Jinan are run by different levels of government. Since Jinan is the capital of Shandong Province, there are three levels of government: provincial, municipal, and district. Beneath the district government is the "living" community, which is not considered to be government, but it also runs a library. So there are four levels of libraries here: Shandong Provincial Library, Jinan City Library, six district libraries, and a lot of living community libraries.
Shandong Provincial Library: The Largest in the Province
Shandong Provincial Library, the biggest in the province, is located in capital. This library was established in 1909, two years before the end of the Qing Dynasty, or 40 years prior to the birth of the People's Republic of China. This library contains 6.12 million collection items, which are very academic oriented. The collections of light industries, medicine and philosophy are good for academic research. The materials of the local history of Shandong Province, works on I Ching and the Great Cultural Revolution in Shandong (1966-1976) are the best in the world. Some old books printed hundreds of years ago and some original manuscripts are the library's pride.
The headquarters moved to east Jinan in 2002 to a grandiose, six-storey building of 53,000 square metres; while part of it remains in downtown as a branch. There is a bookstore in the new library.
In July of 2013, I was invited to tour London and Middlesex County Public libraries and noted that Shandong Public Library does not have any of the social activities or programs as those I saw on my tours. There are no children's or adult programs such as crafts, puppet shows or LINC (LanguageInstruction for New-Comers), but academic lectures involving history, culture, and arts are given. In the summer vacation, they make money by offering summer school to the elementary and secondary school students, and it should be noted that the new library is open only to adults (those over 18), however elementary and secondary students may visit it when accompanied by their parents. Only specific children's rooms in the downtown branch are open to elementary and secondary students. This is quite a difference between Chinese and Canadian public libraries.
Jinan City Library: The House of Treasures
Jinan City Library was founded in 1931, only 18 years before the establishment of communist China. It contains 1.535 million items, including electronic documents, and hosts more than 750,000 readers annually. Like the Provincial Library, the City Library also pays important attention to collecting ancient copies of documents. As we know, the Chinese tended to copy books by hand, writing with traditional brush pens as machine printing was not available in the time of our early dynasties. Hand-written copies by famous people, literally called "merit copies," are really treasures which are fervently collected and sought.Chinese libraries like to show off how many merit copies they have. There are more than 1,000 merit copies In Jinan City Library. It's worth knowing that there is an Office of Ancient Copies and Local Documents in the library. Social activities here are often lectures, exhibitions and essay writings.
Jinan Children Library: Occasional Activities for Children
Jinan Children Library is a branch of the City Library, which was opened on June 1, 1986—June 1 is Chinese Children's Day. Occasionally, but not often, there are some activities for children, for instance, making bookmarks and playing chess. The City Library provides the residents with a mobile library. A van goes to three living communities twice per month. In addition, there are several ATM libraries at which readers are able to borrow books at an automatic machine kiosk.
District & Living Libraries: Focus is on Reading as Entertainment
The district and living community libraries focus on public reading entertainment resembling the services of London Public Library and Middlesex County Public Libraries. Usually there is one district library per district, but in Lixia District of Jinan, two branches will open soon. The Lixia District Library occupies two storeys of a high-rise building. There is a Circulation Department, a Children's Reading Room, a Current Journal Reading Room, a Back Numbers Reading Room, an Electric Reading Room housing 50 computers, a Studying Room of 84 seats. These rooms are separate, not like the ones I visited in Middlesex County or London. Compared to our library, Canadian ones are like supermarkets.
In Lixia District Library there is a training centre for communist party members to learn current politics and policies. The Studying Room is for self-teaching, especially for students to do their homework on holidays. It also provides computer training to the seniors in the Electric Reading Room. But there is no wifi available for the readers in the library, nor enough power outlets in the Studying Room. It's worthy to note that there is an Office of Local History in the library.
To my surprise, a Reading Room was established for people with impaired vision. Unfortunately, I was told that since the room was never in operation, it has since been converted into a bike garage.
For their part, "living" community libraries are usually very small. To better understand it, I believe I should introduce the concept of a living community in China. By definition, it is an urban geographical area where there are about 3,000 families. It's not very wide in terms of the area, because the residents live in tall apartment buildings.
The living community is not lawfully considered to be government, but it is organized and financially supported by the government, and it works for the government delivering government services to the citizens. Suggestions were put forward in middle 1990s that libraries go to living communities in order to include residents. And it became a governmental campaign to set up libraries in living communities around four or five years ago all over China. The living community libraries in Jinan came into being around three or four years ago. Most of them are just one room of about 10 square metres, with several hundred books. These books are for reading entertainment for adults, but there are none for children. Right now, the living community libraries are facing problems. Reports say some community libraries are not open for long periods of time—so long that dust covers the books. Few people come to them, and many close. There are not many books, and the collections are not updated regularly.
How Jinan's Libraries Work:
Generally speaking, the open hours of these libraries are shorter than Canadian libraries, usually from 8:30 am to 5 pm, with an exception of the newspaper reading room as late as to 8:30 pm in some libraries.
The various library types are run independently on different levels. Jinan City library is not a branch of the Provincial Library, nor is a district library a branch of the City Library, nor is a living community library a branch of a district library. The provincial library gets money from the province, and the staff working there are provincial employees. The city library gets money from the municipal government and the staff are municipal employees. Living community libraries actually get money from the district government, like the district library.
The libraries each have their own budgets and decide by themselves which books to buy. Sometimes the district libraries give books to the living community libraries. The connection between them is help or guidance on how to manage the library better. The upper level library may offer training to the staff at a lower level.
Challenges Faced by Libraries in China
There is political rightness in the public library. Some books or newspapers are not accessible in the public library if the publication is forbidden by the communist authority. Some politically sensitive information is only open to high-ranked officials or officers.
The problems that the libraries in Jinan are facing are common in China. Our public libraries are not inclusive enough, and activities for children are too few. How to make them more inclusive is a real issue.
Professor Guodong Zheng is a Lecturer at School of Political Science and Public Administration, Shandong University. The author thanks Ms Lynn Humfress-Trute for her help with the English language.