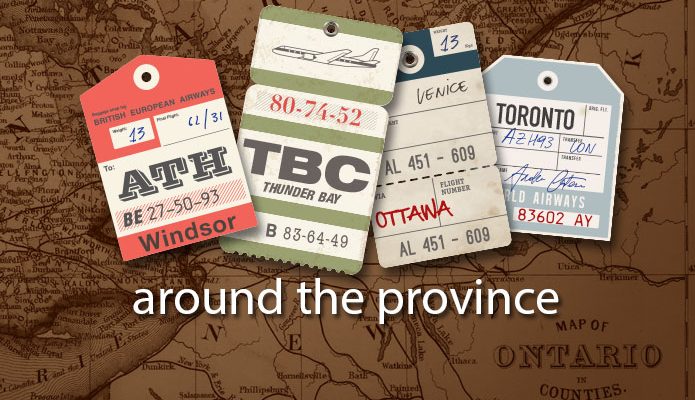 Students Go Hands-on at UTSC's First Trading Competition
What does it take to win an intense stock trading competition dominated by teams of finance students?
A team of accounting students.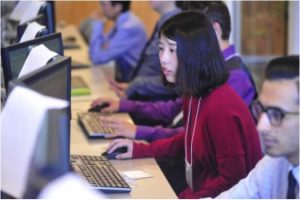 Haoran Shi and Lauren Li, both in fourth-year accounting in the Department of Management, won UTSC's first Trading Competition, held on Sept. 26 in the 60-screen UTSC Library Finance & Trading Lab in the Instructional Centre. Using U of T's own market simulation software, 33 UTSC teams vied to make the most profit from trading securities on screen under high-pressure, instant-decision conditions.
Department of Management Chair David Zweig said the goal of the competition, organized in collaboration with the UTSC Library, is to help students succeed by applying skills learned in the classroom to gain trading experience:
"We want to give them the opportunity to feel the emotional highs and lows that come with the fast-paced nature of trading."
The software, Rotman Interactive Trader, was developed at U of T's Rotman School of Management and adapted by UTSC Finance Lab technician Norman Xu, who set up the case of a Bill Gates-like character needing to quietly sell off millions of dollars' worth of equity in his company by placing small lots with many traders. Over three rounds, about 90 competitors dealt with different market conditions as they sat in silent concentration, watching and clicking.
"The software is really amazing," said co-winner Li. "It gave us a real sense of the market moving and the feeling of being a trader."
Why did the accounting students win? "I think it's because we're more risk averse," said Shi, with a grin. Both he and Li came to UTSC from China under the innovative Green Path program, in which UTSC works to attract top students from partner schools in China and gives them summertime preparation on campus before they enter first year.
Their prize is a dinner with Bay Street trader Timothy De Leon (BBA, 2011) of CIBC World Markets, although neither winner was sure what career they would ultimately pursue.
Along with the Investment Society student club, the competition's key organizer was Finance Librarian Stephanie Perpick, who oversees the Finance Lab, the largest such facility for undergraduates in Canada, in partnership with the Department of Management.
Perpick, who has a background in research at a major investment bank, sees this competition as the prelude to the upcoming online trials to become part of U of T's five-member team in the annual Rotman International Trading Competition, to be held Feb. 19-21, 2015. Last year it featured 52 teams from 47 universities around the world.
"We want to have UTSC students on that team," said Perpick, "and then we want to win!"
Berton Woodward is a Toronto-based editor, writer and communications consultant. He has served in senior editorial and communications roles at York University, Maclean's magazine, Manulife Financial and Time Inc.'s Asiaweek magazine.